A student financial system that puts you in charge.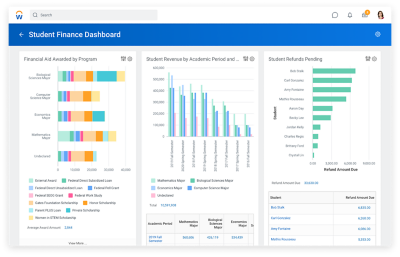 Manage student financials in one place.
Workday brings all your student transactions and analytics into one system, providing new insight into financial account reporting.
With more visibility, you can help students meet their financial obligations—and stay on a path of success.
KEY CAPABILITIES
Charge configuration and options

Aging and past-due monitoring

Payment and charge operational journals

Payment options

Private scholarship automation

Proactive notifications and alerts

Return of Title IV funds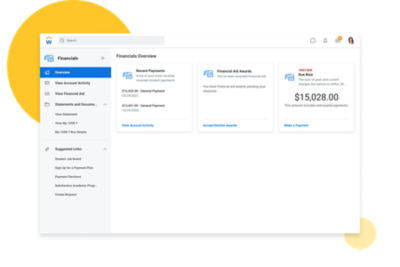 Simplify financial reporting with a single ledger.
With Workday, you get all the capabilities of a general ledger, without the limitations of a rigid code block.  
Automatically create accounting entries.
Streamline your chart of accounts.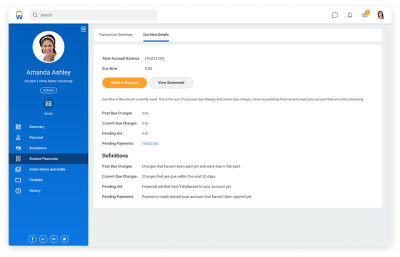 Stay up-to-date with financial aid.
Keep all financial transactions aligned with financial aid. And do it without managing integrations or logging into and out of systems.
Determine eligibility and awards.
Our calculation engine automatically calculates correct amounts for federal and institutional awards. And you can pay only on program-eligible units.
Anticipate financial aid payments.
We subtract anticipated financial aid payments from unpaid student charges, so you can show students and administrators their net account balance.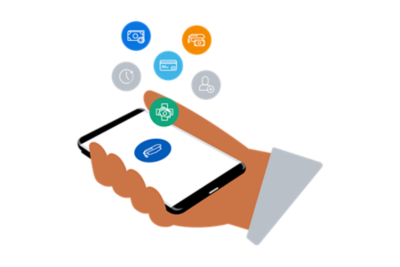 Set payment rules how you want.
Set rules to define the charge types items can cover, the time frame for selecting eligible charges, and the order for paying them. We make it easy for you to control how you apply payments to charges.
Make payments a breeze.
With Workday, you can enable third-party users, such as parents, to access financial accounts and make payments. You can also send proactive notifications on past-due charges so everyone can stay on top of student financials.
See how we serve higher education.
Ready to talk?
Get in touch.