Around the world, a wide range of industries rely on the thousands of products from the vast portfolio of the 3M company. Its brands dominate its markets and are also found in homes, offices, schools, and hospitals across 200 countries.
To achieve such market leadership—and, perhaps more importantly, to maintain and expand it—the company relies on the ingenuity of thousands of researchers and scientists who collaborate with others to help commercialize 3M's offerings.
Great Place to Work® ranking: #6 in the world.
According to third-party surveys, 3M employees regularly give the company high marks as an excellent place to work. In fact, 3M earned the #6 spot on the Great Places to Work list of the World's Best Workplaces™ 2021.
Along with 3M's executive management, its HR and IT groups are among the company's departments that make the working experience so satisfying for employees. To keep things running smoothly, the company invested in Workday Human Capital Management (HCM) several years ago.
According to Ashley Kruse, manager of HR Technology and Automation at 3M, Workday has helped retire legacy systems while automating workflows, facilitating employee self-service, and removing a lot of the friction from older processes. "Today, globally, we are using Workday Extend as much as possible to develop new apps for our employees, in as many as 12 languages," Kruse says. "Even as we expand our Workday footprint, our data stays centralized. What's more, our global HR service centers know Workday and understand the user experience so they can easily support employees."
Employee recognition drives retention.
When a company depends on employees to drive its market leadership and financial performance like 3M does, retention is a big deal. Research has found a strong correlation between retention and employee recognition.
Adam Hjelle, Workday integration lead at 3M, explains that the company already had an app for employee recognition and special payments, such as bonuses, but that it operated via two legacy systems that the team wanted to phase out. "We were an early adopter of Workday Extend," Hjelle says. "With it, we can simultaneously build apps inside Workday while deprecating the older systems that supported the legacy apps. This reduces the maintenance burden on IT."
Tyler Breault, an information technology security analyst at 3M who is also a Workday integration developer on Hjelle's team, used both Workday Extend and Workday Studio to build the new replacement app. "Users can select either discretionary or non-discretionary award requests," Breault points out. "The app then automatically populates default cost centers. Employees can make individual and bulk requests—the latter done via a spreadsheet upload. And a Workday Studio integration connects it to our payments business process. So far, we've made over 10,000 special payments."
We can both replicate legacy apps and build new ones and all within Workday using Workday Extend, which expands the value we get from the Workday HCM platform.

Manager, HR Technology and Automation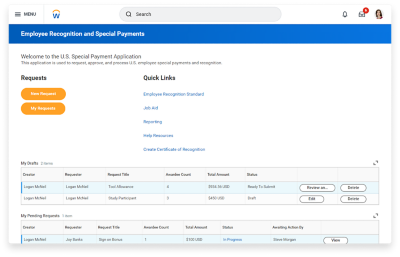 The welcome screen of the 3M Employee Recognition and Special Payments app built with Workday Extend and a Workday Studio integration.
Tuition reimbursement app keeps the workforce sharp.
To help employees learn and grow every day, 3M offers several different continuing education opportunities including tuition reimbursement. The Tuition Reimbursement app enables employees to pursue advanced degrees, diplomas, certificates, and more. "Tuition reimbursements are now done differently around the world, so we're looking at how we can build a common global app within Workday," Hjelle says.
To achieve that goal, Breault used Workday Extend with a Workday Studio integration to the 3M payment process. "Employees can either enter the total tuition for a full degree and then decrement it to pay for each semester, or they can request a one-time payment to reimburse them for taking a single course," Breault says. "All requests are automatically routed to their managers for approval."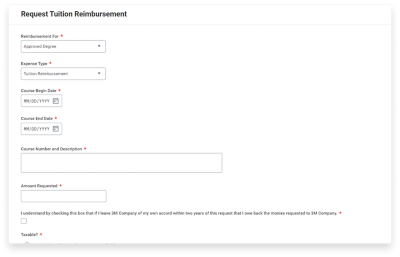 The initial screen of the 3M Tuition Reimbursement app that was developed using Workday Extend and a Workday Studio integration.
Work Your Way app supports employee choice.
For most 3M employees, working in an office is now optional. The company trusts employees to determine when and where they can work most effectively. Of course, this approach needs tracking and visibility for management, so the 3M Workday team used Workday Extend to build a global app called Work Your Way from concept to deployment in just three months.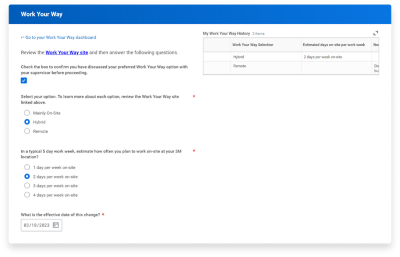 The 3M Work Your Way app built with Workday Extend and Workday Studio includes a feed to Workday Prism Analytics for management insights.
Since deployment, the app has captured over 58,000 requests in 68 countries, feeding that data into Workday Prism Analytics so insights can be drawn from workforce choices. "We used Workday Prism Analytics to populate managers' dashboards so they can easily see their employees' selections and take any other actions that might be needed," Kruse says. "Studio integrations facilitate payroll integrations, including taxing allocations."
Kruse adds that the Work Your Way app shows how 3M continues to put the needs of employees first to foster an agile, inclusive, and collaborative culture. "It's initiatives like these that help 3M earn perennially high rankings by external sources as a wonderful place to work," Kruse concludes. "The rankings help us recruit good talent, and high employee satisfaction helps us retain it."
With Workday Extend, we can create just about any process we want as long as it has as an appropriate use case. And doing it inside Workday provides a consistent user experience, improving adoption. 

Workday Integration Lead