Reach stakeholders in the channels they prefer.
Expand your ability to serve your workers, suppliers, candidates and other users by communicating with them in the channels they already reside with Workday Messaging.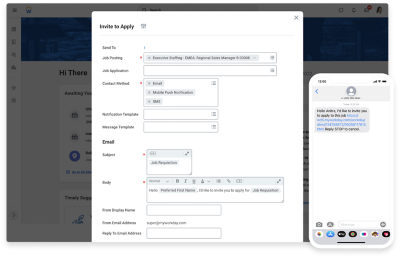 Accelerate time to action
A majority of users are more likely to take action on a text notification. Workday Messaging provides the ability to send custom SMS notifications through any business process within Workday, accelerating the time between notification and action.
KEY CAPABILITIES
Notify of new or outstanding tasks

Invite to apply for positions

Remind of upcoming events (e.g. interviews, open enrollment, etc.)

"Workday Messaging has definitely benefited us in accelerating our time to hire."
Effectively reach more candidates.
Workday Messaging allows recruiters to easily communicate with candidate leads through popular SMS text messages for rapid notification. Once candidates opt-in, you can send messages on a wide range of of recruiting topics.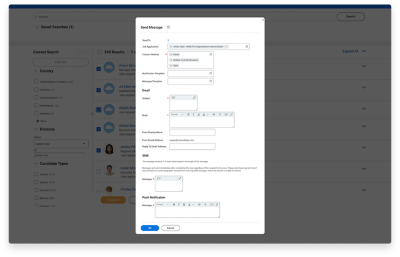 Effectively communicate
Improve engagement with users and accelerate action on tasks.
Easy opt in and opt out
Enable users to easily opt in and opt out of SMS communication.
Improve candidate interaction
Engage with candidates for job openings using their preferred communication channel.
Users maintain control of notification method.
Workday Messaging puts control in the hand of the users of whether they want to receive text notifications. A familiar opt-in/opt-out capability makes it easy to enable or disable text notifications.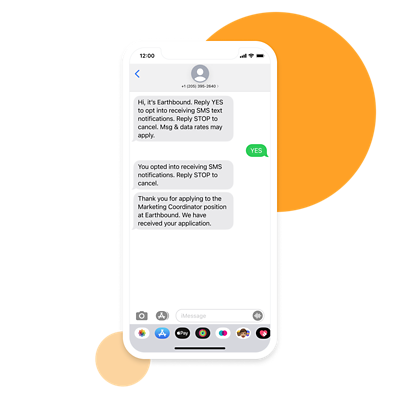 Ready to talk? Get in touch.