Challenges.
IBM was looking for a way to help consolidate siloed systems by making it easier and more consistent to find and use data, improving their user experience.
Why Workday Extend.
Workday Extend enabled IBM to expedite development by leveraging one security model, a single source of data, and a seamless user experience. Additionally, IBM was able to consolidate shadow IT systems that supported one-off transactions and maximize Workday ROI.
App Deployed: Payslip.
The Payslip app, built by IBM Workday Service Partner Consultants, integrates Workday HCM with user browser session data. A click of the app enables a connection to third-party and IBM cloud APIs that render a listing of available payslips back to the user in real time. A table displays period by period comparisons of net earnings by date, with deep links that reach out to the third-party APIs to retrieve an employee's detailed payslips. It currently serves approximately 80% of the IBM population, with the other 20% soon to follow.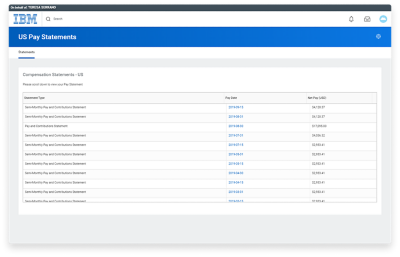 Consolidated multiple systems.
IBM consolidated multiple intermediate pay-statement repositories across several countries while reducing data exposure risks.
Consolidated 4 systems into 1 UI and security model
Optimized access to pay slips.
IBM's Pay Slip app provides real-time access to pay statements—eliminating the need for employees to contact the service center for historical pay slips or to save copies of their pay statements. Employees no longer take hours to analyze pay deviations between paychecks.
Reduced time to access pay info from 24 hours to seconds
Improved decision support.
IBM's Cognitive Talent Insights app provides managers with personalized alerts, insightful observations, and actionable recommendations about their employees, utilizing external data such as market scarcity indicators and internal data such as performance.
No maintenance needed over 2+ years of Digital Badging app
Increased developer efficiency.
IBM now has consistent tools for security and process management, helping accelerate development. They also removed the need for regression testing procedures related to Workday Extend apps during the Workday update process.
Lowered effort for development and maintenance by 25%–50%