Blackstone's internal consultant system manages the requests and approvals for onboarding contingent workers. However, the process ran outside of Workday and required data to be replicated. To reduce ongoing maintenance and eliminate a cumbersome system, the company turned to Workday to manage both employee and contingent worker operations—without any integrations.
Additionally, another system was used to request and set up coverage for administrative and executive assistants while they were out of the office for paid time off or unplanned events. To simplify the process, Blackstone wanted to automatically configure access to Outlook calendars and tasks using the data in Workday.

Using Workday Extend, Blackstone built new apps to meet its unique needs, integrated data, and simplified its technology stack.
We wanted to leverage the power of the Workday platform to make decisions using real-time Human Resources data and stay within the familiar Workday experience.

CTO of Human Resources Technology at Blackstone
Apps built.
Blackstone built two custom apps—Request a Consultant and Temp Engagement—to streamline onboarding and manage its workforce. The apps appear in the user's Workday landing page  as worklets, delivering a seamless experience.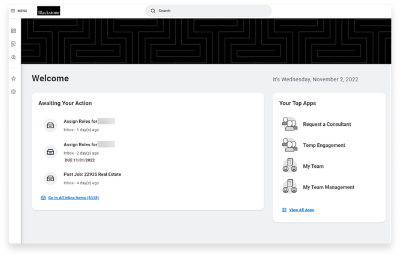 The Request a Consultant app enables requesters to onboard consultants directly using Workday. It preloads the relationship to the manager, prompting the user for information that is validated before it reaches the Human Resources team. All required onboarding documents are then stored centrally within Workday.
The Temp Engagement app allows Blackstone's Human Resources team to request temporary staff to fill in for administrative staff. The form allows the Human Resources team to select the admin start and end out of office dates, and enter notes (preferences, instructions) directly into Workday. A regular process uses application programming interfaces to query Workday, automatically provisioning the temporary staff with access to the team's Outlook emails, calendar, and tasks.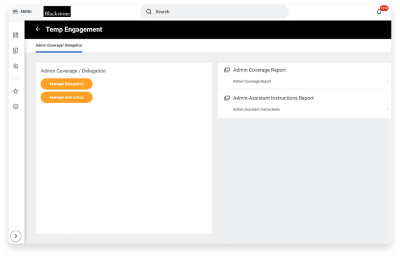 Workday Extend gives us a way to automate the provisioning and deprovisioning of consultants and temporary staff  to fit our exact needs.

CTO of Human Resources Technology at Blackstone
Benefits realized.
Consultants across the global organization can now be onboarded quickly, with immediate access to the resources they need.  In addition to improving the efficiency of the onboarding process, users now 'live' within Workday, enabling real-time, data driven decisions. 
Automatic recertification notifications are generated to help managers securely track and manage the consultant lifecycle.  With these activities captured and ready for reporting within Workday, the organization now has increased visibility into the contingent worker population. And by removing an external system, Blackstone eliminated maintenance, support, and integrations between systems. 

Due to this success, Blackstone is considering using Workday Extend to further enhance the employee performance process and customize affinity group membership rules per country.

Workday Extend allows us to unplug legacy systems that store different versions of Workday data. This not only reduces risk but also eliminates the ongoing costs of licensing, maintenance, and support.

CTO of Human Resources Technology at Blackstone