Een internationale basis voor financieel management voor uw organisatie.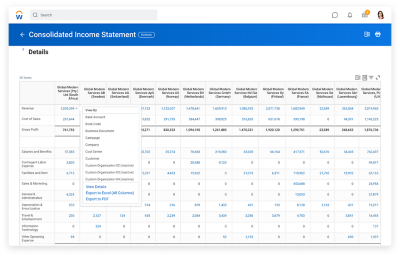 Ondersteun uw organisatie
wereldwijd.
Of u nu in slechts enkele landen of over de hele wereld actief bent, Workday kan u helpen. Onze basis voor financieel management biedt nauwkeurige en auditeerbare informatie, processtandaardisatie en optimaal inzicht op internationaal niveau. Zo krijgt u precies wat u nodig heeft om zowel aan bredere internationale wetgeving als uw eigen unieke vereisten te voldoen.
BELANGRIJKSTE FUNCTIES
Meerdere entiteiten

Meerdere valuta's

Landspecifieke configuraties

Internationale consolidatie

Internationale rapportage en analytics

Breid eenvoudig uit naar nieuwe landen.

Elk land heeft zijn eigen voorschriften en gebruiken. Daarom geven we u de vrijheid om Workday te configureren om aan die verschillende behoeften te voldoen. Geen dure customisaties. Gewoon ingebouwde flexibiliteit om met de business mee te bewegen.

Een gemeenschappelijke basis voor iedereen.

Zorg voor een consistente ervaring voor finance en HR, waar u ook zaken doet. We bieden ondersteuning voor internationale tijdzones, valuta's, adresindelingen en meer.

Flexibele frameworks om te voldoen aan lokale vereisten.

Ondersteun meerdere rekeningschema's en boekhoudsystemen, verschillende belastingstelsels, banksystemen, betalingsindelingen en meer, zonder aanpassingen.

Kant-en-klare configuraties om sneller uit te rollen.

Met landspecifieke configuraties, inclusief belastingtarieven en -regels, factuurindelingen en gelokaliseerde rapporten, allemaal ingebouwd, krijgt u alles wat u nodig heeft om snel uit te rollen.

"Workday heeft ons geholpen om wereldwijd te schalen en ons voor te bereiden op verdere groei."

 

Breng uw hele organisatie samen met één basis.

Data die alle teams verbindt.

Controles om uw processen te beheren.

Stroomlijn workflows en sta waar nodig lokale wijzigingen toe. Met Workday kunt u controles op internationaal niveau opleggen, rekening houdend met lokale vereisten.

Accounting die de grenzen overschrijdt.

Centraliseer internationale accountingprocessen voor een snellere afsluiting en vereenvoudigde shared service center operations.

Consolidatie voor de hele business.

Resources over financieel management, speciaal voor u.

Hoe we u
snel live krijgen.