AUDIT EN INTERNE CONTROLES
Always-on proactieve audit. Altijd inbegrepen.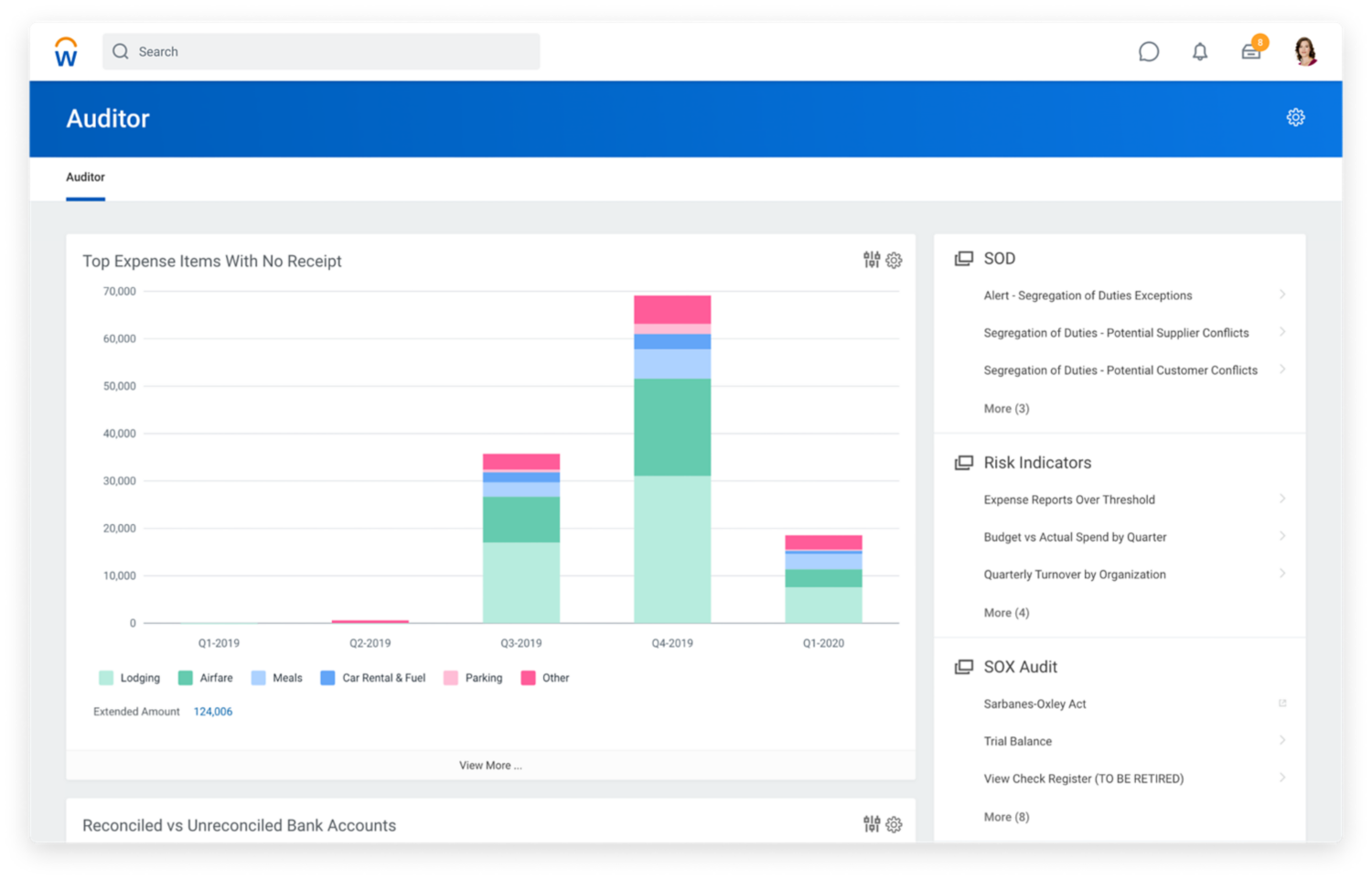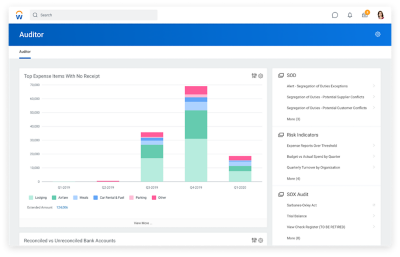 Houd gelijke tred met compliance.
Waarom wachten op audits om te weten of alles klopt? Met always-on audit en interne controles in Workday wordt elke transactie gedocumenteerd. Zo brengt u risico's in kaart en houdt u uw organisatie veilig.
BELANGRIJKSTE FUNCTIES
Zelfdocumenterende audittrails

Kant-en-klare workflows

Configureerbare workflows

Ingebouwde beveiliging

Kant-en-klare dashboards en rapporten

Heb vertrouwen in uw transacties.

Workday levert workflows en controles om ervoor te zorgen dat elke transactie goed gescreend en gedocumenteerd wordt. En wanneer u uw controles of processen wilt aanpassen, doet u dit moeiteloos zelf met ons flexibele framework.

Stel goedkeuringsdrempels in.

Voorkom ongeautoriseerde transacties.

Verzamel snel auditbewijs.

In Workday wordt elke transactie gevolgd. Elke actie wordt vastgelegd en is beschikbaar via ongeëvenaarde audittrails. En dit gaat niet ten koste van de systeemprestaties. Wanneer auditors bewijzen nodig hebben levert u dit moeiteloos aan.

Eén beveiligingsmodel om te controleren wie wat ziet.

De beveiliging is verankerd in de fundering van Workday, het is geen add-on. Wanneer er iets verandert hoeft u de beveiligingsmachtigingen slechts één keer bij te werken.

Configureer controles om aan de doelstellingen van uw organisatie met betrekking tot rapportage en compliance te voldoen.

Gebruik één toegangs- en autorisatiemodel om ervoor te zorgen dat de mensen alleen zien wat ze mogen zien.

Rapporteren gemakkelijk gemaakt.

We voegen al uw processen en data samen in één systeem om auditmanagement te ondersteunen. Als het tijd is om te rapporteren krijgt u actuele, nauwkeurige informatie waarop iedereen kan vertrouwen.

Kant-en-klare dashboards en rapporten.

Bekijk realtime trends om de belangrijkste issues snel in kaart te brengen.

Rapporten-op-maat voor audits.

Creëer aanvullende rapporten zonder dat u data uit externe systemen hoeft te verplaatsen.

Resources over financieel management, speciaal voor u.

Hoe we u
snel live krijgen.