Het accounting center voor diepere inzichten en betere controle.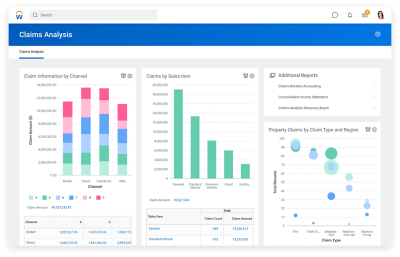 Business events vertalen naar journaalposten.
Workday Accounting Center is gebouwd op een analyticsengine en registreert, verrijkt en transformeert operationele transacties.
Als de business events zijn omgezet krijgt u toegang tot rijke accountingdetails, compleet met datalineage naar brontransacties. Het resultaat? Een kortere time-to-close, eenvoudigere oorzakenanalyses en beter geïnformeerde beslissingen. 
BELANGRIJKSTE FUNCTIES
Door de gebruiker gedefinieerde regels

Complete procesintegratie

Transformatie van accounting

Volledige foutafhandeling

Ontworpen voor accounting.

We hebben het systeem zo ontworpen dat dagelijkse gebruikers accountingregels eenvoudig kunnen opstellen en onderhouden. Zo kunt u fouten opsporen, transacties volgen en problemen aanpakken, met toegang tot de complete datalineage.

 

Meer controle.

Eenvoudig accountingregels configureren en operationele data integreren.

Minder complexiteit.

Procesvertragingen elimineren, time-to-close verkorten en Cost of Ownership (COO) verlagen.

Voldoe moeiteloos aan alle auditvereisten.

Als het tijd is voor de audit, houdt Workday veranderingen bij en controleert deze. U kunt snel het wie, wat, waar en wanneer beantwoorden om aan de vereisten te voldoen.

Begrijp uw bedrijf.

Krijg de uitgebreide inzichten die u nodig heeft voor diepgaande analyse. Met Workday ziet u elk accountingdetail, compleet met datalineage naar de brontransactie.

Workday Accounting Center: belangrijk bericht


De teksten over onze toekomstige producten beschrijven aangekondigde producten die nog niet overal verkrijgbaar zijn en bevatten toekomstgerichte overzichten met bijbehorende risico's, onzekerheden en veronderstellingen. Onze beschrijving van niet-vrijgegeven services, features, functionaliteit of verbeteringen kan op elk willekeurig moment door Workday worden gewijzigd en wordt mogelijk niet zoals gepland geleverd of helemaal niet geleverd. Workday is niet verplicht en niet van plan dergelijke toekomstgerichte overzichten bij te werken. Klanten die services van Workday aanschaffen, dienen hun aankoopbeslissing te laten afhangen van de services, voorzieningen en functionaliteiten die op dat moment beschikbaar zijn.

Hoe we u snel live krijgen.