Gestroomlijnd en efficiënt beheer van reis- en onkosten, op internationale schaal.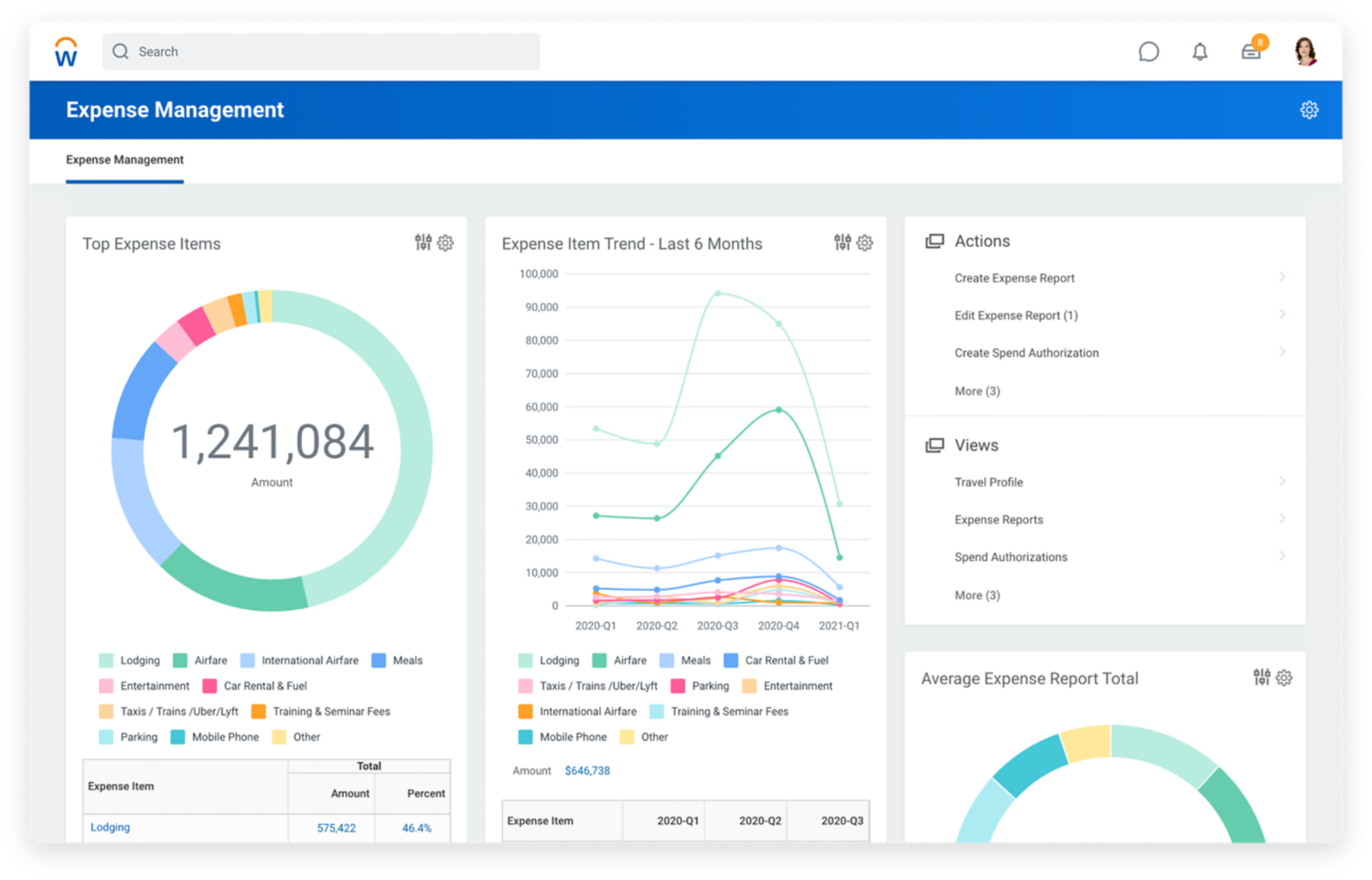 Onkostendeclaraties in een handomdraai.
In Workday Expenses komen een gebruiksvriendelijke ervaring en enterprise-class functies samen. We bieden uw mensen de mogelijkheid om onkosten te declareren en goed te keuren op een manier die voor hen handig is, en u krijgt alle benodigde functies om continu controles in te stellen en uitgaven te analyseren.
BELANGRIJKSTE FUNCTIES
Invoeren en goedkeuren via mobiel

Internationaal scannen van ontvangstbewijzen

Volledige audits en controles

Ingebouwde rapportages en analytics

Internationale ondersteuning

Sneller onkosten verwerken.

Waarom tijd verspillen aan het reconciliëren van data over onkosten en werknemers? 

Onze software voor reis- en onkostenbeheer bevindt zich in hetzelfde systeem als finance en HR, waardoor u tijd bespaart en onkosten sneller vergoedt.

Verminderde de tijd voor onkostenverwerking met 75%.

Efficiënte onkostendeclaraties.

Niemand vindt het leuk om uitgaven item voor item in te voeren. Of om in te loggen om een declaratie in te dienen. Daarom hebben we een oplossing voor expensemanagement ontwikkeld die het hele proces vereenvoudigt, op kantoor en onderweg.

Scan een ontvangstbewijs voor directe verwerking.

Op basis van machinelearning creëert Workday automatisch een declaratie op basis van een scan van het ontvangstbewijs en bepaalt de kosten, het soort uitgave, ontbrekende details en meer.

Declareren binnen natuurlijke werkomgevingen.

Als uw mensen Slack of Microsoft® Teams gebruiken kunnen ze hun declaraties daar indienen, zonder bij Workday in te loggen.

Automatiseerde onkostenbeheer voor 100%.

Bespaar op zakelijke reiskosten.

Onderhandel betere tarieven.

Met onze standaard meegeleverde onkostendashboards kunt u belangrijke trends in realtime identificeren. Vervolgens kunt u deze inzichten gebruiken om te onderhandelen over betere tarieven. 

Voorkom potentiële fraude.

Stel goedkeuringsdrempels en uitgaveautorisaties in. Met Workday kunt u uitgaven die niet in lijn zijn met het beleid eenvoudig beheren en volgen.

Houd de reiskosten onder controle.

Breng al uw travelpolicies op één plaats samen voor betere kostenbeheersing door eenvoudig te verbinden met Workday-gecertificeerde reispartners of de corporate travel management software van Deem®. 

Resources over spend management, speciaal voor u.

Hoe we u
snel live krijgen.