Alle Workday-integraties die u nodig heeft. Zonder onnodige kosten.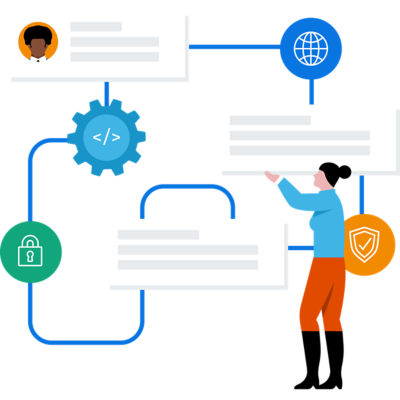 Naadloze connectiviteit. Eindeloze mogelijkheden.
Met Workday Integration Cloud kunt u veilig en efficiënt verbinding maken met uw externe systemen, zonder extra kosten of middleware.
Het maakt allemaal deel uit van ons kernsysteem. En het wordt beveiligd door één Workday-beveiligingsmodel.
BELANGRIJKSTE FUNCTIES
Door Workday onderhouden integraties

API-framework conform industriestandaarden

Ingebouwde functies voor monitoring

Beschermd door ons beveiligingsmodel

Geïntegreerd met business process automation

Runtime en tooling gehost door Workday

"Ons team van vijf experts beheert 150 integraties."

Ingebouwde integraties, out-of-the-box.

Workday Integration Cloud gebruikt enterprise-class integratietechnologie en is ingebouwd in het kernsysteem van Workday. Het is beschikbaar voor alle gebruikers en voor alle applicaties in Workday.

Volledige ondersteuning voor complexe integraties.

Met efficiënte Workday-tools voor administrators en een krachtige IDE voor integratieontwikkelaars kunt u alles ondersteunen, van de eenvoudigste data-exports tot de meest complexe transformaties en protocollen.

Beschermd door een configureerbaar securitymodel.

Betrouwbaarheid vormt de basis van alle Workday-tools, dus ook voor onze uniforme 'global at the core'-architectuur. Integraties worden beschermd door ons configureerbare beveiligingsmodel en kunnen rechtstreeks worden gebruikt in Workday-bedrijfsprocessen.

Workday Integration Cloud verzorgt elke maand meer dan 11 miljoen updatebestendige integratieruns, waarbij alle verbindingen door dezelfde SLA-beschikbaarheidsgarantie van 99,7% worden ondersteund.

"Ons team van zo'n 25 mensen heeft in en vanuit Workday 65 integraties ontwikkeld en geïmplementeerd."

Flexibele, functionele tools die aan uw behoeften voldoen.

We bieden alles wat u nodig hebt voor het ontwikkelen, testen, uitvoeren, beheren en monitoren van de hele integratielifecycle.

Meer dan 600 kant-en-klare integraties.

Maak direct verbinding met Workday Web Services en REST-based API's.

Compleet integratieplatform met runtime en tools.

Resources, speciaal voor u.