Verhoog de efficiëntie van uw
procure-to-pay-proces.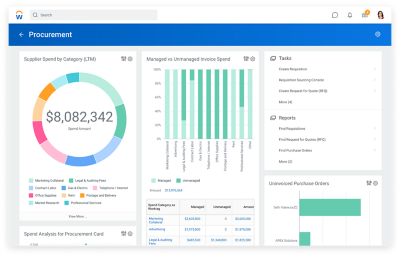 Besteed minder tijd aan indirecte kosten.
Met de software voor procurementmanagement van Workday automatiseert en controleert u alle processen rondom indirecte kosten. 
Werknemers kunnen in één systeem inkoopaanvragen aanmaken, inkooporders genereren, goederen ontvangen, leveranciersfacturen verwerken en uitgaven analyseren.

BELANGRIJKSTE FUNCTIES
Beheren van indirecte uitgaven

Rekwisities en purchase orders

Automatisering van leveranciersfacturen*

Configureerbare 'spend controls'

Realtime inzicht in kosten

Stroomlijn het volledige procure-to-pay-proces.

Inkoopmanagement eenvoudig gemaakt.

Gebruik slechts één systeem voor het beheren van de informatie, het beleid en de processen over de inkoop van indirecte goederen en diensten.

Versnel het proces voor leveranciersfacturen.

Onze machine learning legt de leveranciersfacturen voor u vast en verwerkt ze in recordtijd. Dit betekent minder handmatig werk en meer tijd voor strategische initiatieven.

Controleer de kosten op flexibele wijze.

Stel consistente controles in om ervoor te zorgen dat alle transacties voldoen aan uw regels en fiatteringen. U kunt ook inzichten en rechten aan werknemers toekennen op basis van hun rollen en machtigingen.

Weet waar uw geld naartoe gaat.

Bekijk voor elke transactie het wie, wat, wanneer en waarom. Met Workday kunt u alle gegevens vastleggen en analyseren. Zo krijgt u beter inzicht in de uitgaven en kunt u werken aan een effectief beleid.

Unum versnelde de cyclus van aanvraag tot PO met 86%.

Resources over spend management, speciaal voor u.

*Workday Procurement – Belangrijke informatie

De teksten over onze toekomstige producten beschrijven aangekondigde producten die nog niet overal verkrijgbaar zijn en bevatten toekomstgerichte overzichten met bijbehorende risico's, onzekerheden en veronderstellingen. Onze beschrijving van niet-vrijgegeven services, features, functionaliteit of verbeteringen kan op elk willekeurig moment door Workday worden gewijzigd, en deze onderdelen worden mogelijk niet zoals gepland geleverd of helemaal niet geleverd. Workday is niet verplicht en niet van plan dergelijke toekomstgerichte overzichten bij te werken. Klanten die services van Workday aanschaffen, dienen hun aankoopbeslissing te laten afhangen van de services, voorzieningen en functionaliteiten die op dat moment beschikbaar zijn.

Hoe we u
snel live krijgen.