Alle data die u nodig heeft. Allemaal in één hub.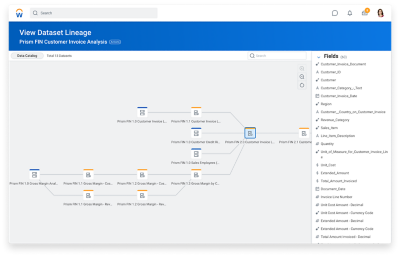 Bouw partnerships en verbeter de bedrijfsresultaten.
Nu kan het IT-team voorzien in alle analytics- en rapportagebehoeften van finance, HR en lijnmanagers.
Verbind en combineer transactiedata met grote volumes externe operationele data. Vervolgens kunt al die data beheren, voorbereiden, toewijzen, volgen en publiceren voor rapportages en analytics.
BELANGRIJKSTE FUNCTIES
Eén databron

Ecosysteem- en legacydata

Grote volumes operationele data

Distributie door de hele onderneming

Veilige toegang via selfservice

Eén user experience

Ondersteuning bij inzichten en beslissingen

Eén bron voor financiële, operationele en HR-data.

Met Workday bevinden analytics en transacties zich in hetzelfde systeem. Iedereen kan rekenen op één bron van de waarheid, bijdragen aan beslissingen en de koers van de business volgen. Samen.

Ontdek hoe we organisaties uit allerlei branches in staat stellen hun belangrijkste vragen te beantwoorden.

Selfservice binnen handbereik.

Geef finance en HR geautoriseerde, veilige toegang tot de data die ze nodig hebben.

Eén beveiligingsmodel dat is verbonden met het system-of-record.

Met machtigingen zien gebruikers alleen de voor hen relevante data.

Een datahub die de business aanstuurt.

Integreer elke databron, of het nu gaat om ecosysteem-, legacy- of operationele data. Vervolgens kunt u de data automatisch samenvoegen, transformeren en voorbereiden voor analyses.

Minder tijd besteden aan het samenstellen van rapporten, meer datakwaliteit en controle: wat wilt u nog meer?

Florida Atlantic University geeft haar teams toegang tot betrouwbare data, met eenvoudige beveiliging, via één platform.

Resources over analytics en rapportages, speciaal voor u.

Hoe we u
snel live krijgen.