Neem betere beslissingen over mensen, sneller.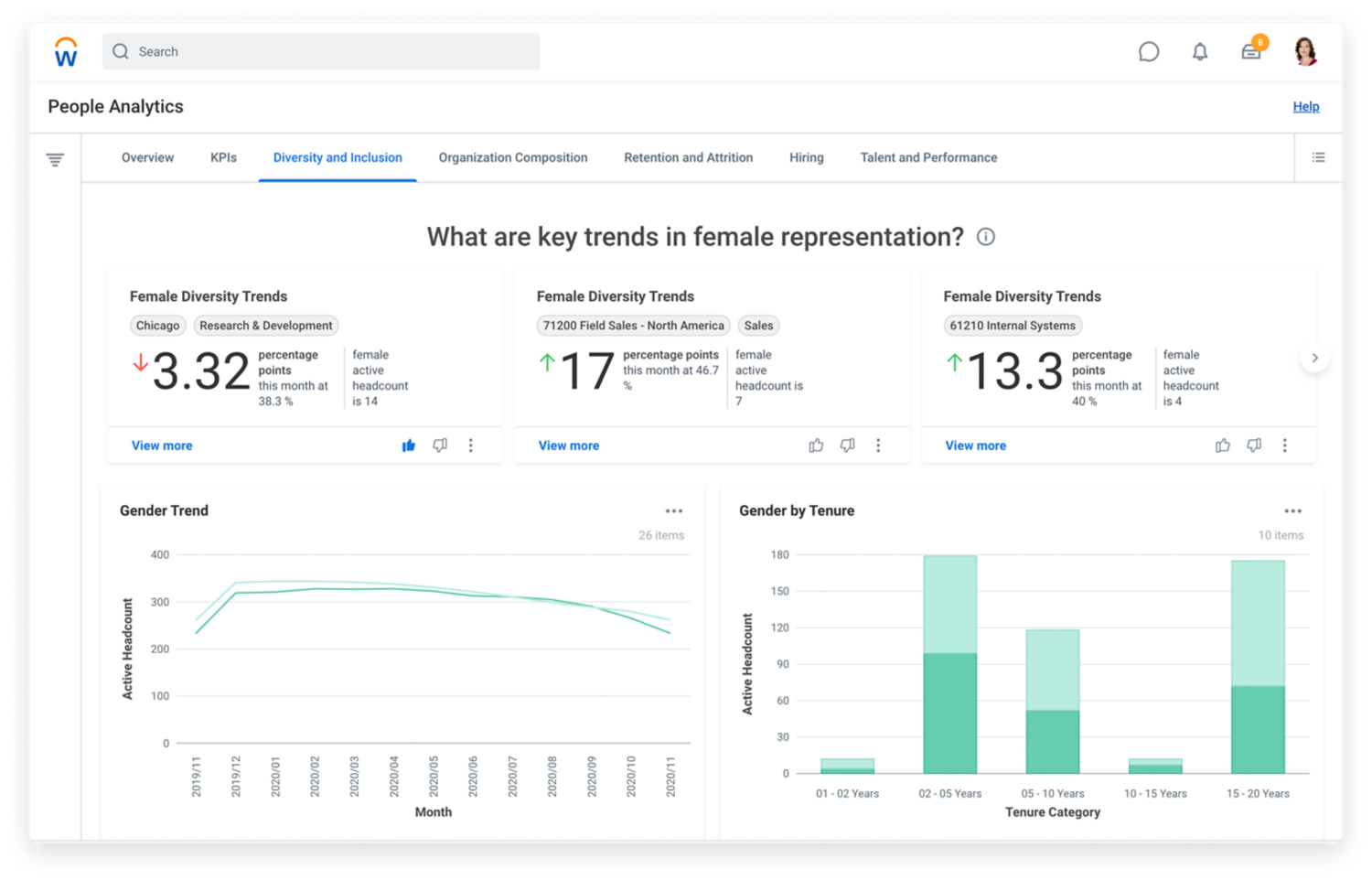 Ontdek belangrijke workforce-opportunities.
Workday People Analytics wordt aangedreven door augmented analytics en brengt belangrijke inzichten aan het licht die anders misschien onopgemerkt waren gebleven. 
Inzichten zijn geprioriteerd, afgestemd op uw rol en worden gepresenteerd als 'verhalen' of 'stories'. Zo kunt u met vertrouwen belangrijker personeelsbeslissingen nemen.
BELANGRIJKSTE FUNCTIES
Op maat gemaakte en geprioriteerde inzichten

Genereert 'stories' of 'verhalen' in natuurlijke taal

Inzichten worden automatisch aan het licht gebracht

Detectie van onregelmatigheden
Diversiteit en inclusie

Samenstelling van de organisatie

Vertrekrisico en verloop

Werving en selectie

Haal meer waarde uit uw data over werknemers.

Het probleem met data tegenwoordig is niet de toegang ertoe. Het gaat erom dat u weet waar u op focust en dat u de data correct interpreteert. Hier komen wij om de hoek kijken.

Krijg het hele verhaal, niet alleen de cijfers.

Bij ons zijn alle workforce-insights ingebed in een 'story', verteld in heldere omgangstaal. Zo kunnen uw teams de data beter begrijpen en erop reageren.

Volg uw belangrijkste metrics.

We brengen de belangrijkste vragen van onze klanten aan de oppervlakte. Zo kunt u beter focussen.

Maak tijd vrij voor wat echt belangrijk is.

Besteed minder tijd aan het doorzoeken van data met geautomatiseerde insights discovery. Exporteer deze inzichten vervolgens naar slides of discovery boards voor analyse en samenwerking.

Analyseren en handelen op één plek.

Bekijk inzichten in meer detail om te achterhalen wat bepaalde trends aanstuurt. U kunt zelfs specifieke werknemers identificeren die aan bepaalde drivers zijn gekoppeld en direct naar hun profiel gaan om meteen actie te ondernemen.

"Workday People Analytics brengt zaken aan het licht die vaak te klein zijn om in een bedrijfsbrede analyse naar boven te komen. Toch kunnen deze inzichten, als ernaar gehandeld wordt, de metrics op macroniveau sterk verbeteren."

Analytics en rapportages, speciaal voor u.

Hoe we u
snel live krijgen.