Procure the best external talent, at the right price.
Streamline sourcing processes, control costs and manage individual contract hires through to larger project requirements with VNDLY, a Workday company.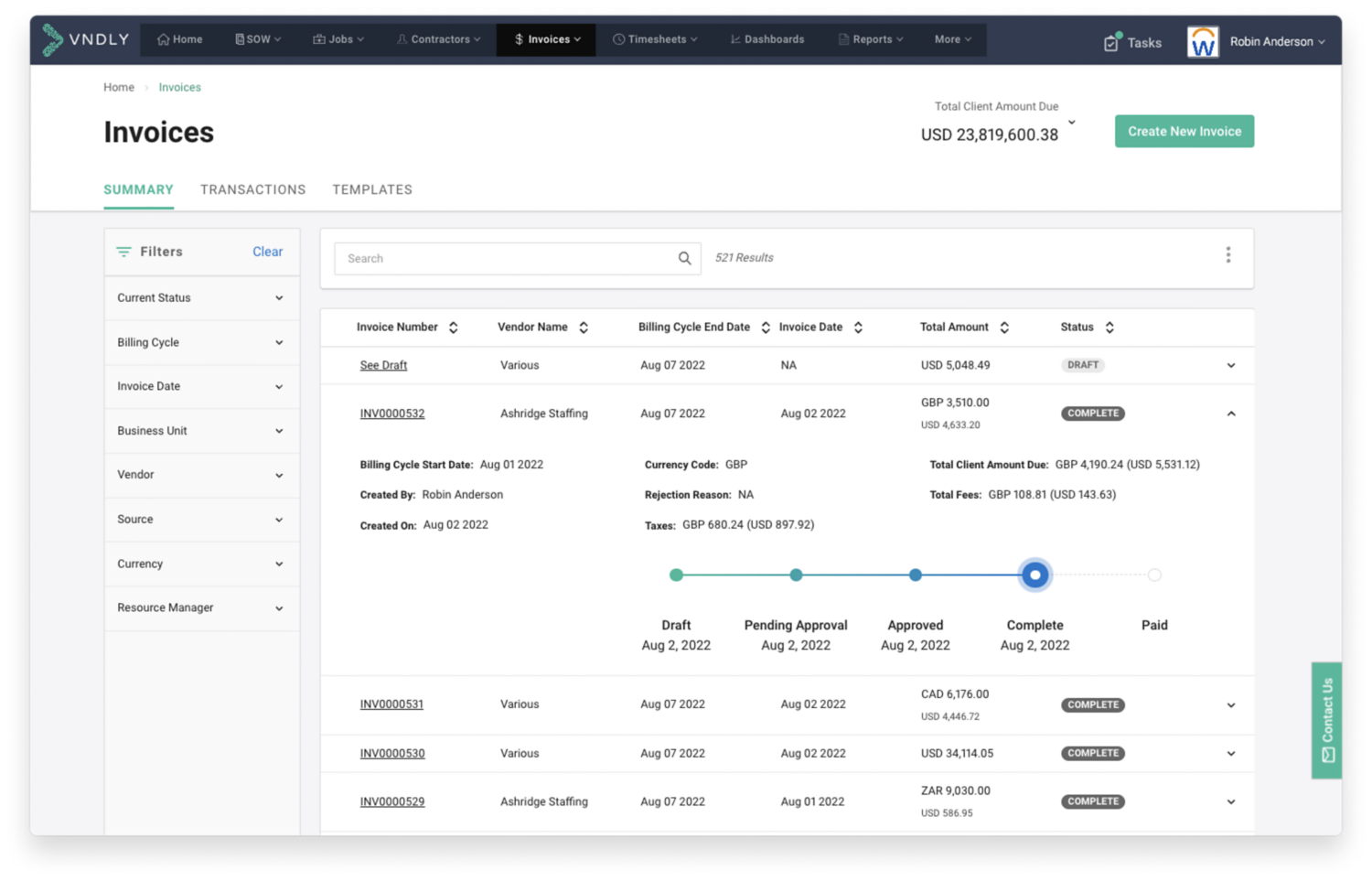 Plan smarter. Remain on track. Stay on budget.
External talent makes up an increasing share of today's workforce – and labour costs.
The intuitive VNDLY solution helps streamline and optimise the way you plan, manage and analyse your contingent labour needs via a single VMS system of record.
KEY CAPABILITIES
Global digital invoicing

Rate card management

SOW and contract management

Job requisition creation

Vendor performance management

Time and expense tracking

Programme and spend dashboards

Take control of your contingent labour programme.

To procure services faster and remain within budget, you need to be able to define processes, follow progress and assess complete spend. VNDLY provides it all.

Enable global digital invoicing.

Robust invoicing capabilities strengthen financial controls, increase accuracy, remove the need for invoice reconciliation and help support adherence to global compliance – regardless of spend.

Gain cost visibility and optimise spend.

Remove the guesswork with oversight of invoicing and project billing status. Access spend dashboards and put your focus where needed with filtering options by location, vendor or organisational unit.

Improve invoicing efficiency.

Stay on top of invoicing with batch processing or individual off-cycle invoicing. As queries related to single line items arise, put these on hold while still moving other items through the process.

Manage spend in line with budgets.

Remain within set budgets via robust rate card management allowing you to set rate thresholds. In addition, rest assured that only approved spend is converted into an invoice line item.

Gain oversight of sourcing effectiveness.

Ensure your vendors are meeting business needs with vendor scorecards that provide insights into candidate quality, vendor responsiveness and any policy violations.

Procure to pay with seamless integration.

VNDLY removes manual effort and increases accuracy with real-time, transactional integration with procurement systems. Ensure budgets are in sync and reconciled based on purchase orders, invoices and goods receipts.

"The Workday and VNDLY integration has saved significant time and has improved data integrity by eliminating manual data entry. Additionally, it has improved our risk management by allowing for the seamless transition of contractors." – Manager, Talent Acquisition Operations, Pacific Life