Payroll software for Australia
Payroll for Australia that puts you in charge.
Workday Payroll is now commercially available (CA) in Australia.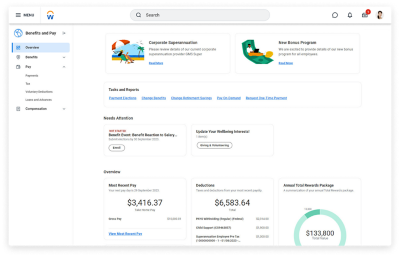 Manage payroll with greater agility.
We support you with the flexibility, control, and insight that you need to run payroll your way.
Manage your HR and payroll from a unified system and stay ahead of regulatory change with our payroll management software for Australia.

KEY CAPABILITIES
Continuous payroll processing

Real-time visibility

Configurable audits

Built-in reporting and analytics

Effortless payroll experience
"Running Workday Payroll for Australia saves us a lot of time. It makes for a very quiet payday, which always makes me happy."
—Payroll Director, Cognizant Workday Practice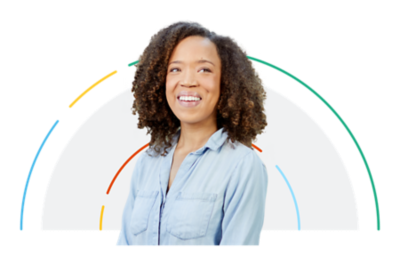 Connected to support compliance.
Workday connects all of your HR, finance, and payroll data, and helps organizations pay employees accurately, timely, and compliantly.
Make confident decisions, faster.
Workday brings together data from inside and outside of your organization to deliver built-in, real-time reporting.
Keep operations flawless.
Run your business with precision by connecting real-time data for compensation, benefits, absence, and time in a unified payroll system.
Empower your people.
Allow employees to enter critical personal data themselves to reduce payroll inquiries.
Unify your dashboards.
Run a streamlined operation where you can view analytics and transactions in the same place.
Manage payroll your way.
We provide a broad spectrum of global enterprise payroll capabilities that simplify your processes and evolve with your needs. So you can gain the control, flexibility, and insight to configure and run payroll your way.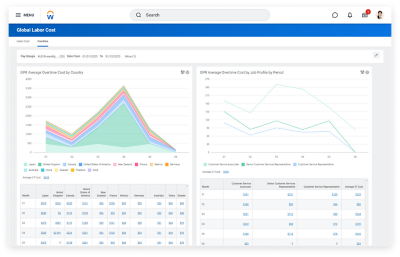 "When HR data isn't accessible to payroll through a single system, that can lead to errors, delays, and retroactive payroll."
—Cristina Goldt, GM of Workforce and Pay, Workday
Payroll Resources just for you.
See how we get
you live fast.
Ready to talk?
Get in touch.