smartCIO magazine
Welcome to the new edition of smartCIO – the magazine for technology leaders in EMEA. In this issue we focus on AI and ML, and offer advice on their practical application in modern business.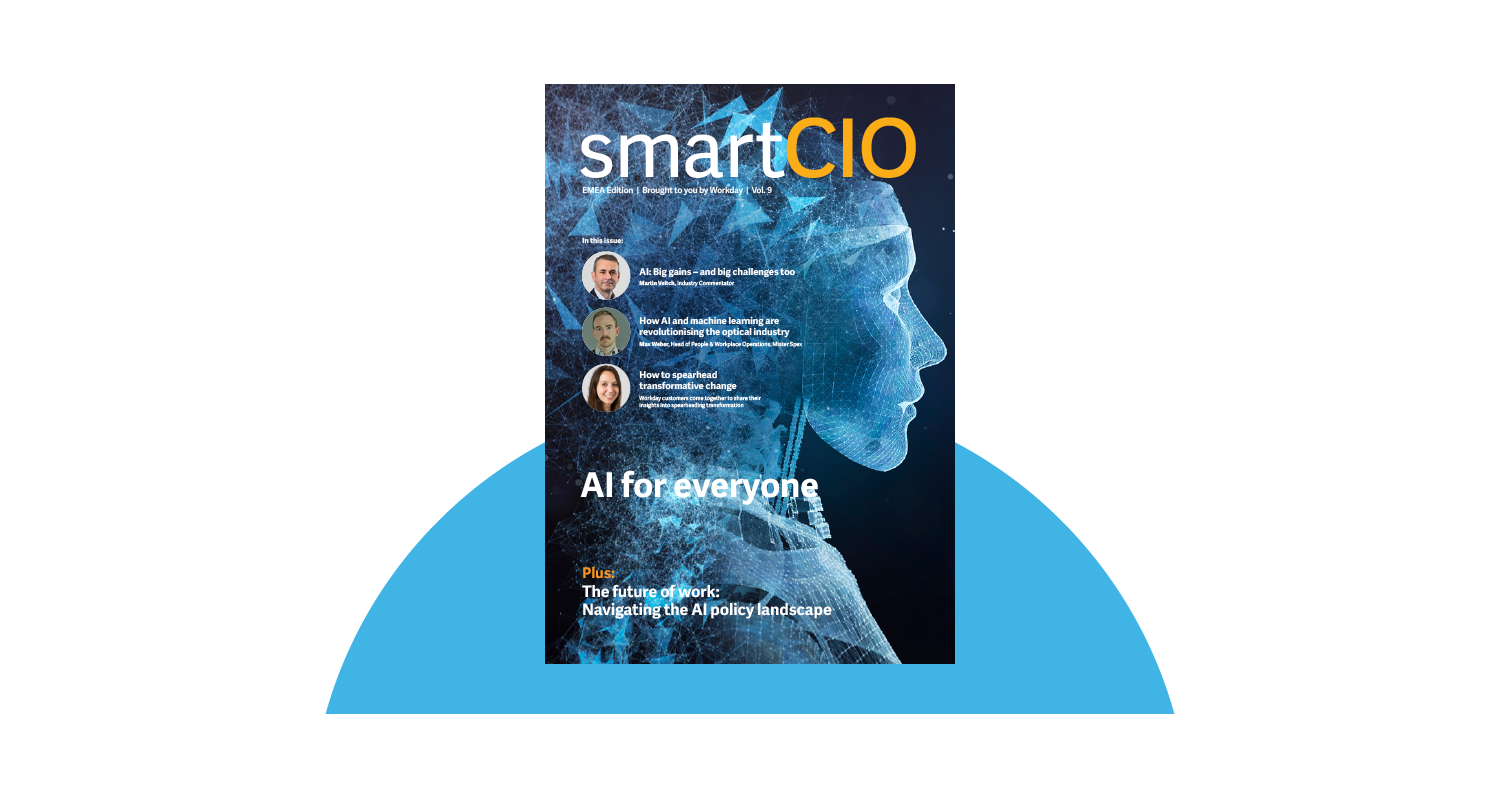 Top stories in this issue
In this edition of smartCIO you'll hear from organisations already embracing AI and explore the benefits and challenges AI and ML can bring. You'll explore what AI and ML mean for your role as an IT Leader and learn how 1,000 business decision-makers from around the globe are thinking and feeling when it comes to artificial intelligence.
Here are our top stories:
AI: Big gains – and big challenges too
Tech Journalist and Commentator, Martin Veitch, looks at the high potential value CIOs can gain from AI and ML investment – and the challenges that may be encountered on the way.
How AI and ML are revolutionising the optical industry and creating an optimised customer experience
Max Weber, Head of People & Workplace Operations at Mister Spex, talks about the use of AI and ML and key themes revolutionising the way companies like Mister Spex operate.
How to spearhead transformative change
Five leaders share how their organisations are thriving through uncertainty, winning talent and unleashing the power of AI.
Previous issues
Did you miss a previous issue of smartCIO? You can find them all below.
In this issue we're focusing on thriving through uncertainty. We explore this and the role technology – and the CIO – play in this critical narrative.
In this special issue we're highlighting women in technology with some great articles on diversity, overcoming prejudice and more. Read on to hear from some inspirational women on how you can build an inclusive culture at your organisation and remove the hurdles your workforce is facing.
Learn about the continued move towards the digital transformation of core business systems and the key role CIOs play in the shift.
Learn about the culture-first approach framing business technology and why the cloud is so key to your future success in a changing world.
Examine the increasingly pivotal nature of the CIO-CFO relationship in a changing world.
Understand how organisations including Webber Wentzel and Formula 1 are navigating the return to the workplace, and the role of technology in supporting this.
Explore digital acceleration and how the CIO has emerged from the pandemic as a key business enabler. We also take a look at the top tech trends for 2021 and beyond, and chat to Veolia UK and Pick n Pay.
Examine the role of the CIO in a post-COVID-19 world, AI and machine learning, and the importance of adaptable architecture. We also have interviews with Thyssenkrupp Steel and PGA European Tour.