All the data you need. All in one data hub.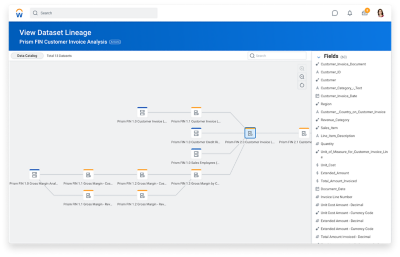 Build partnerships and drive business outcomes.
Now your IT team can support all the analytics and reporting needs of your finance, HR, and line-of-business managers.
Connect and blend your transactional and high-volume external operational data. Then manage, prepare, govern, trace, and ultimately publish that data for reporting and analysis.
KEY CAPABILITIES
Single source for data

Ecosystem and legacy data

High-volume operational data

Enterprise-wide distribution

Secure, self-service access

Single user experience

Insight and decision support

One source for financial, operational, and workforce data.

With Workday, analytics and transactions reside in the same system. Everyone can count on a single source of truth, collaborate on decisions, and go where the business is going—together.

See how we empower organizations across industries to answer their key business questions.

Self-service at your fingertips.

Provide finance and HR with governed, secure access to the data they need.

One security model connected to the system of record.

Permissions ensure that users only see relevant data.

A data hub that drives business.

Integrate any data source, whether it's ecosystem, legacy, or operational. Then automatically blend, transform, and prepare it for analysis.

Less time manually putting together reports, with increased data accuracy and controls—what's not to love?

Supports teams with a single platform for accessing reliable data with simple security.

Analytics and reporting resources just for you.

See how we get
you live fast.

Ready to talk?
Get in touch.