Extend Workday applications with speed and confidence.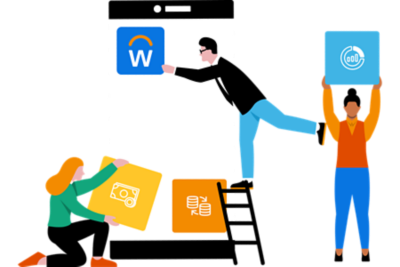 Develop and deploy new business capabilities.
Create new apps to accommodate your unique way of doing business, using the same services that power our HCM, financial, and student applications.
Workday Extend places our technology and security foundation into your hands.
KEY CAPABILITIES
Built into the Workday cloud

Use Workday UI

Run existing reports

Apply same security model

Support app lifecycle management

Monitor app behavior

Extend object data model*

Workday Extend is now generally available.

Tailor Workday to fit your needs.

Seamlessly build new value.

Address your unique people and financial use cases—from boosting employee and supplier engagement to streamlining pay processes and consolidating experiences.

Rely on a trusted foundation.

The apps you build use the same real-time data—not copies—and inherit our security measures. This means that existing reports, analytics, dashboards, and admin tasks are unchanged.

Deliver one user experience.

All apps run alongside your existing Workday applications. Because they use the same business processes and enjoy the same look and feel, users can focus more on the task at hand.

We apply the same login and security controls to the apps you build, keeping your data safe. And any data changes are audited in real time, helping you maintain governance and compliance.

"Workday Extend gives us the ability to break the silos between enterprise applications to deliver a secure, integrated user experience."

Build new capabilities, not infrastructure.

Use the same app components as our developers.

Create pages that incorporate our user interface, business logic, and data object layers.

Rely on the Power of One for all you create.

Eliminate the need to replicate core Workday services. We provide you with one security model, one data model, and one UI.

Tap into a platform that's ready to go.

Leverage an app development platform that is built into the Workday cloud. This makes it possible for you to retire legacy systems.

Build code that remains update-safe.

Your apps remain update-safe from one Workday release to another. There's no recoding or regression testing needed.

"We don't need to worry about updates and regression testing."

*Workday Extend—Important Notice

Our future product content describes announced products that are not yet generally available and contain forward-looking statements for which there are risks, uncertainties, and assumptions. Our description of unreleased services, features, functionality, or enhancements are subject to change at Workday's discretion and may not be delivered as planned or at all. Workday assumes no obligation for and does not intend to update any such forward-looking statements. Customers who purchase Workday services should make purchase decisions based upon currently available services, features, and functions.

Ready to talk?
Get in touch.