Workday Extend gives us the ability to address new use cases via apps that not only deliver a secure, integrated user experience, but also utilize our extensive enterprise data sets.

VP, Workday on Workday
How we leverage Workday Extend.
Workday engagement managers are entrusted as the gatekeepers for providing access to important information for consultants and customer account teams to begin a project. However, the existing procedures and systems used were relatively cumbersome. Administrative tasks to manage project team access and onboarding required engagement managers to perform those tasks one-by-one across multiple systems and coordinate key data exchange via email. With engagement managers handling multiple projects, this can result in issues or delays.
App deployed: WoW Project Onboarding.
The WoW Project Onboarding app provides Workday engagement managers with a centralized approach to initiate and automate traditionally manual onboarding tasks. Engagement managers now have the ability to perform all of their project onboarding tasks for new team members within the Workday application, with the Workday Extend app automatically communicating with additional systems, such as Salesforce, to accomplish the necessary tasks. This includes assignment of project consulting roles, enabling access to secure data exchange sites, and more.

The app is available for every project within Workday as both a custom task as well as a new tab seamlessly integrated into the project-specific information page.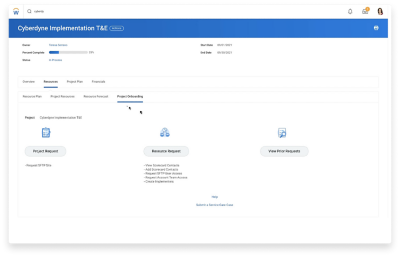 Benefits and results.
Workday engagement managers are no longer burdened with numerous, low-value-add, time-consuming administrative tasks. Tasks such as manually managing email requests and using spreadsheets to ensure that project onboarding was on track are now performed within the app, often in batches. This greatly simplifies the process and ensures delays are minimized.

The traditional approach using Salesforce to manually update information (workers, onboarding data, and more) is still available. However, by leveraging Salesforce APIs to perform the same operations, engagement managers can now view remaining steps and validate status in a central location to determine project readiness.

Since the app was introduced, it has saved Workday the equivalent of one full-time employee. Other Workday Extend apps in use at Workday include vaccine management offering a self-service approach for employees to submit proof of vaccinations, and tracking and approving temporary remote-location work requests.