The long list of Unum awards for being a top employer offers plenty of evidence that the company values its employees. According to a third-party study, 81% of Unum's U.S.-based employees consider it a great place to work. That's compared to just 57% of employees at a typical U.S.-based company.
Of course, such a positive response doesn't happen by accident. It reflects Unum's focused effort to make its working environment appealing and helping its employees thrive. And research shows this can result in higher employee and customer retention rates, which are both factors in greater profitability.
Technology's role in organizational culture.
Two people who have essential roles ensuring Unum's best-place-to-work reputation are Denise Ferguson, assistant vice president of people and communications technology, and her team member Lisa O'Brien, director of global HRIS. "Workday is one of the fundamental technology stacks my team manages," Ferguson says, noting that Workday is now the company's end-to-end cloud system for finance and HR. "We handle HR configuration, support, and development behind our payroll and time-tracking capabilities. Doing so reduces our need to engage third-party development resources."
According to Ferguson, having Workday as the go-to enterprise data source for the entire organization is a significant benefit. "We've made our employees' experience so much better by giving them a one-stop shop for most of their HR, data, and reporting needs," she says. "Now they don't have to tap into multiple systems across the company like they used to."
We wanted to build more engaging functionality and apps within Workday to meet our business needs—and do it all in-house to save time and expense. Workday Extend delivered that and more.

Assistant Vice President, People and Communications Technology
One of O'Brien's main responsibilities is app development. "We're proactive about improving our employee experience, especially with Unum-specific capabilities," she says. "We take a Workday-first approach of looking at our tools and how we might solve business problems or draw more value out of our existing investment in Workday, using as much of its core functionality and capability as we can."
To facilitate this model, the HR technology team added Workday Extend to the developer toolset, enabling them to build new capabilities and processes directly within Workday. It provides access to the same elements—seamless user experience, single source of data, flexible business process framework, and end-to-end security—that Workday uses for its own applications.
Visibility and control over the entire app lifecycle.
With Extend, Unum developers can also seamlessly deploy a new app into the company's existing Workday environment, then monitor its usage and performance as part of managing its entire lifecycle. "Extend caught our interest early because we could use it to create our apps in Workday without having to invest in additional external platforms," O'Brien says. "We brainstormed some pain points we couldn't address before with Workday tools and found that Extend could solve those with more creativity and flexibility than other approaches. Its curated App Catalog also sparked our imaginations about future possibilities."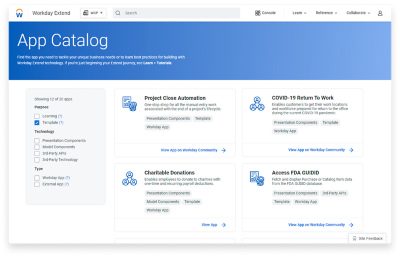 The Workday Extend App Catalog offers app templates that Workday customers can customize quickly and easily to meet their specific requirements.
Workday Extend helped solve a challenge the company's talent, learning, and diversity and inclusion groups were facing. They wanted to introduce an Achievement Badge app for all employees. One goal was to acknowledge an individual's achievements. Another was to help HR draw insights from the company's talent pool. "We developed the app completely in-house with Extend and in partnership with Workday," says O'Brien. "We worked closely with our IT developers, who used Extend's new business objects and processes to build the app with some Boomerang integration flows and a mass upload capability. They also built reporting capabilities using Prism Analytics, which gives us more flexibility in getting to the badge data."
Workday Extend enables Unum to use badges as a key way to drive a learning culture and build a skills-based organization.

Director, Global HRIS
A badge is a digital validation of an accomplishment. Unum currently offers 23 badge types for completing different learning and development program coursework, attending the annual employee recognition conference, and receiving the coveted CEO Award. Additional badges recognize years of service and the top skills in demand across the organization.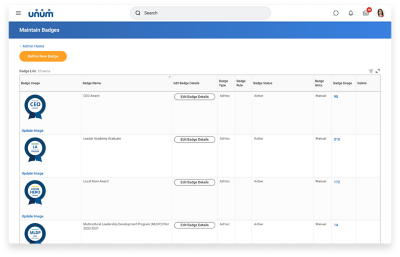 The Unum Achievement Badge app functions within Workday and was built using Workday Extend. This screen shows the badge definitions page. It also provides an admin dashboard that enables the HR technology team to maintain the app and easily add new achievement badge types.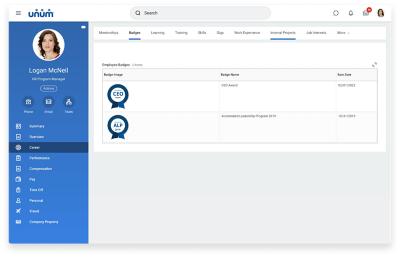 This screen shows an Unum employee's view of their earned badges. The page is accessible via a new Badges tab in their Workday profile.
Ferguson explains the Achievement Badge app is a tool to engage employees, cultivate a learning culture, and facilitate talent mobility. "Badges promote employee engagement in building skills to support our company's—and their own—future success. At the same time, they give us insights into our internal talent pool," she says. "This way, the app helps us see and track skills and accomplishments across our company. It also enables HR and hiring managers to quickly find people who have the right skill sets needed to address our most pressing business issues."
Unum employees have shown a lot of enthusiasm for the Achievement Badge app—and pride in displaying their badges. "A third of our employees have at least one badge in Workday, which we expect to grow to 50% within the year," Ferguson concludes. "Soon after we launched the app, they were adding the badge icons they earned in their email signatures, showing great pride in their achievements."
Ferguson is working with her analytics teams to evaluate the badging app's impact on Unum's talent and employee strategies. Looking further out, she anticipates the company will make greater use of Workday Extend as a toolkit for needs outside of HR. "We see our finance, procurement, and other organizations using Workday Extend's flexibility in creative ways to customize their Workday processes even more than they can now," she says.