With a presence all over the world, Otis can confidently claim that most people today have used its elevators, escalators, or moving walkways at some point in their lives. The company has more than 2 million customer installations worldwide, supported by a highly mobile workforce of 41,000 field professionals.
To manage its volume of employees and keep them connected with their colleagues across so many countries, Otis invested in the Workday Human Capital Management (HCM) platform. Once it deployed HCM, Otis quickly built its myHR portal using Workday's custom dashboards to make self-service available to all employees across 77 countries.

Vaccine management app, an urgent need and learning experience.
When mandates came out that required everyone returning to offices to be vaccinated, Otis had to get a vaccine management app done in short order.
According to Beth Adams, the company's core HCM functional lead, her team had been interested in using Workday Extend for about a year. And this need for a new app became their opportunity. "Our goal was to take advantage of the Workday platform's architecture, logic, and security to more quickly and easily deliver new capabilities across Otis' global enterprise while retaining the familiar user experience to ensure faster adoption," she says. "So, we licensed Workday Extend and enlisted Workday to help with this first app, working closely with their professional services team to learn how to do future apps on our own."

Volunteer app tracks progress toward a big 2030 service goal.
As part of its Environmental, Social & Governance (ESG) commitment to the world, Otis set a 2030 goal of supporting 500,000 employee volunteer hours but needed a way to track it. Brandon Fahey, the company's Workday Extend functional lead, created their Volunteer app within Workday that enables employees to register and categorize their own volunteer time. "Originally, our in-house stakeholder had built this using a popular forms application, but we decided it wasn't user-friendly enough," Fahey says. "Instead, we kept the experience within Workday, using Extend and Workday Studio—a component of Workday's Integration Cloud."
The Volunteer app also allows the company to track employees' total volunteer hours as progress toward its ESG goals. Notably, the app is translated into 38 languages. "If we don't translate it into every native language that our employees speak, it's not going to be usable," Fahey says. "Once we went live, we got feedback on the translations and could quickly update them to improve their quality."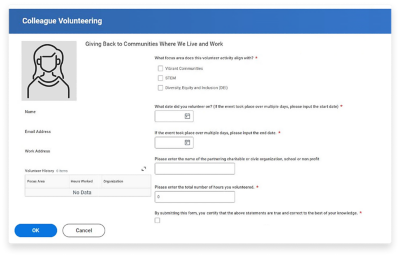 Otis' Volunteer app that greets employees who want to register their volunteer hours.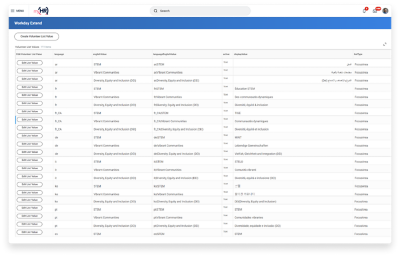 The Workday Extend user interface shows how the volunteer list values are set to the 38 languages the app features.
Built the relief app for Ukrainian workers in three days.
With 300 mostly male field service workers living in Ukraine when the country was invaded in early 2022, Otis management was gravely concerned about their well-being as well as that of their families.
As Ukrainian nationals/citizens, the government expected the men who worked as mechanics on Otis equipment to join in the nation's defense, and so they weren't allowed to leave the country. "Still, they desperately needed to both share information about their situations and get help moving their families to safety and finding them appropriate housing," Adams says. "Initially, a central contact person was trying to maintain this information using spreadsheets, but they were quickly overwhelmed as requests flooded in."

Both Adams and Fahey quickly got busy using Workday Extend to build their Humanitarian Relief app, finishing it in just three days. "The first part of the app allowed a Ukraine employee to register and describe their location, family members, and situation," says Fahey. "The second part was for other employees in neighboring countries to share their location, available beds or rooms, languages spoken, and so on."

The app enabled Otis employees to connect with each other. "So, if you were in Ukraine and your husband had to stay behind, an Otis employee from Poland could meet you at the train or bus station and find you and your family appropriate housing in a safe location," says Fahey.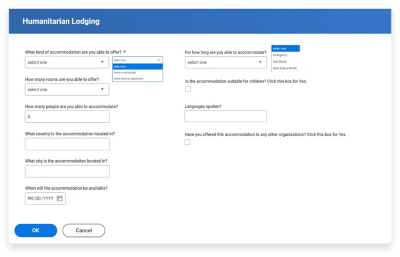 Otis' Humanitarian Relief app was built in three days to centralize family situations and available housing information for 300 Ukraine employees who needed to get their families to safety.
Otis was able to develop the Humanitarian Relief app quickly, proving the value Workday Extend could provide the company in other ways, such as a recent Contingent Worker app. "We've shown how fast we can deploy an app to meet a business need," Fahey concludes. "The business is coming to us again and again to develop more of these types of apps. With our ability to reuse code where appropriate, we can dramatically reduce our development times and adapt to meet our evolving world."