An agile talent acquisition suite that helps companies adapt.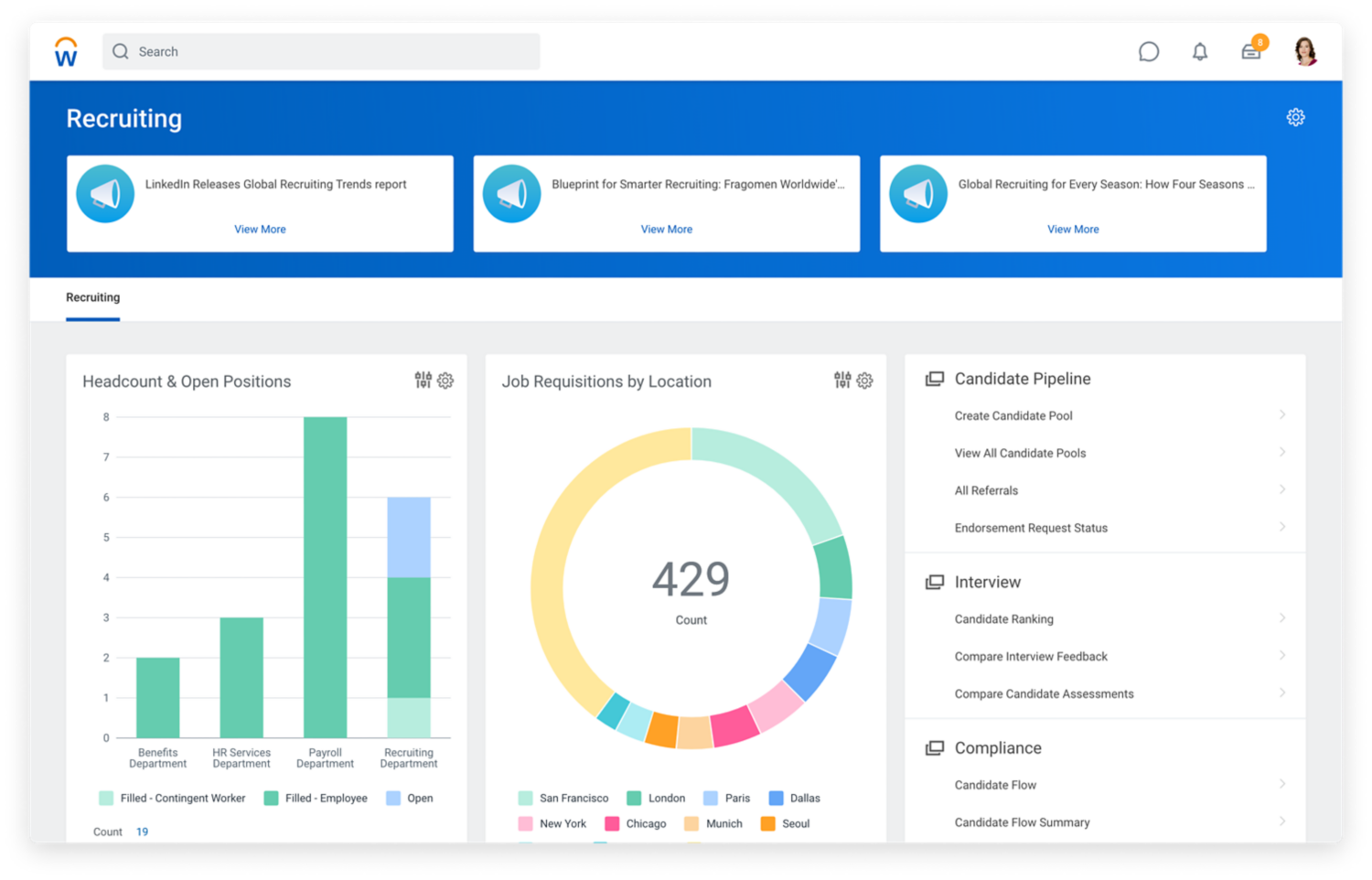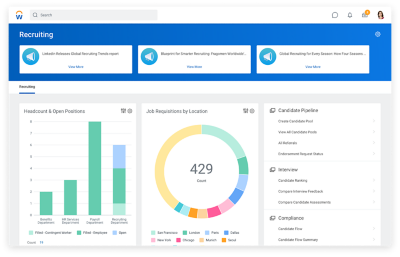 Manage the full talent acquisition lifecycle.
With recruiting, engagement, and Workday Skills Cloud unified with Workday Human Capital Management (HCM), we've got you covered every step of the way.
Our skills intelligence foundation helps you build diverse teams by expanding candidate pools with equitable, AI- and ML-driven job recommendations.
KEY CAPABILITIES
Candidate engagement and marketing

Seamless recruiter and candidate experience

Hiring team collaboration

High-volume efficiency

ISMS messaging and interview management

Reporting, compliance and analytics

AI- and ML-driven skills intelligence foundation
Align hiring with business needs.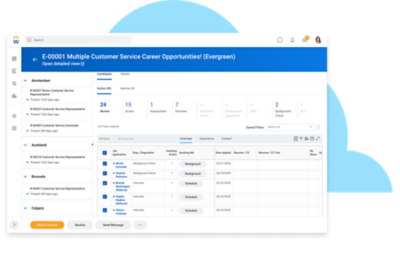 Hire together. 
Let your hiring teams work with the tools they use every day. Hiring managers can exchange interview feedback via Microsoft® Teams and Slack, and easily create requisitions on mobile.
Hire the best at high volumes.
Build your pipeline with evergreen requisitions. Surface top candidates to accelerate hiring. And automate workflows, disposition candidates en masse, and process offers and agreements in bulk.
Make data-driven decisions.
With our AI- and ML-driven skills intelligence foundation, Workday Skills Cloud provides real-time insights into your workforce so your teams can become talent advisors.
A recruiting hub to take care of business.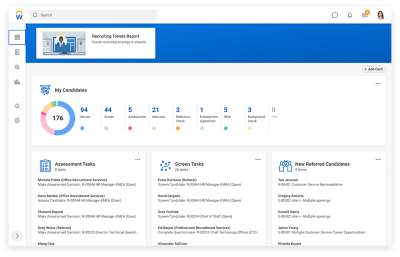 We brought all the tools recruiters need into one centralized hub. Then we empower them to personalize their workspaces, so everyone can work the way they want.
Resolve outstanding action items.
Complete recruiting tasks.
Accelerate the candidate pipeline.
Reach and engage candidates every step of the way.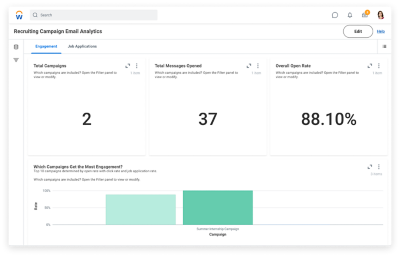 Boost the quality of your applications.
Find and nurture talent using automated campaigns, tailored landing pages, and real-time analytics. And help candidates identify skills they might not even know they have.
Personalize job searches.
Connect candidates to relevant job opportunities by using AI and ML embedded in Workday to glean skills from candidates' resumes and recommend job opportunities that match.
Make the application process easy.
From the initial search to the moment candidates hit "submit," they'll get the same experience on mobile and desktop alike. They can even import details from their social profiles to apply faster.
Deliver real-time updates and job alerts.
Candidates can check the status of their applications, get job recommendations, and select interview times.
Create content that reflects your brand.
Capture your candidates' attention before their first interview. Workday allows you to create career sites and embed videos on your job posts to show why your organization is a great place to work.
Talent management resources just for you.
See how you can get started today.
Ready to talk?
Get in touch.