When golfers place high enough in tournaments, they earn a portion of the prize money, or "purse". The stakes are especially appealing in professional tournaments like the PGA Championship and the PGA Professional Championship – which are hosted by the PGA of America – as winners earn a share of a purse that can be $12 million or more. Managing these kinds of purses and payments requires secure digital interactions between tournament organisers and third-parties. For years, the PGA of America facilitated purse management processes with a custom app that was an add-on to its legacy finance system. Not only was the add-on complex to use, but it was also time consuming to manage. So when the PGA of America replaced its finance and HR systems with Workday as part of its digital transformation strategy, it also sought a new purse management solution. 
A caddy for business operations.
The PGA of America's development team initially planned to build a new app in a system outside of Workday. However, a custom standalone app would give staff and members a disjointed experience and require the management of siloed data stores, security policies and application life cycles. The organisation was already taking advantage of the Workday Integration Cloud, so developers explored other options within the system and decided to build a Purse Management app with Workday Extend. Workday Extend gives developers the sophisticated tools and resources required to build their own apps and tasks that run inside of Workday.
When we saw what was possible with Workday Extend, we were confident that we could deliver the solution we wanted – as quickly as we needed it.

Senior Director, Enterprise Technology
Proven guidance for moving from the sand to the green.
To develop and deploy the Purse Management app for its Workday system with the help of experts, the PGA of America's developers partnered with Workday Professional Services. Jenn Kelly, financial controller at the PGA of America, says, "Our biggest challenges were slowing down, identifying all our requirements, not trying to control everything, and trusting the Workday methodology that our partners from Workday Professional Services shared with us."
Our biggest challenges were slowing down, identifying all our requirements, not trying to control everything, and trusting the Workday methodology that our partners from Workday Professional Services shared with us.

Financial Controller
Connected purse management. 
Today, the PGA of America's purse managers create, view and manage purse payments from Workday. Not only does this seamless design improve user experience but it also reduces development complexity and boosts security. Automated workflows eliminate redundant back-and-forth processes between the PGA of America's finance team, tournament directors and their organisations. By keeping prize and invoice data in Workday, the organisation can also use its Workday security policies and access controls to govern the workflows. "We've been able to configure automated business processes with our Purse Management app that better supports our 28,000 members – and mitigate risk," says George Whitaker, senior director of Enterprise Technology.
The Purse Management app's workflows.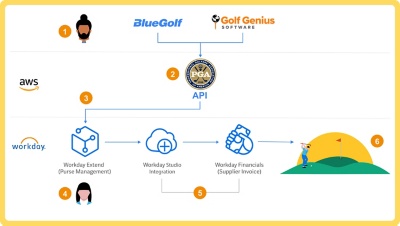 1. Tournament organisers enter information about events, contestants and winners in BlueGolf and Golf Genius, two third-party applications that the industry uses to operate golf tournaments.   
2. BlueGolf and Golf Genius push purse information to the PGA of America's Purse Management app through an API Gateway in Amazon Web Services (AWS).   
3. The PGA's AWS API service sends the purse information to new business objects in the Purse Management app. Immediately, managers can see that a new purse is ready for approval in the "Open Purses" window (screenshot below).
4. After verifying the information, including which parties receive what amounts of money, a manager clicks a button to approve the purse. This action automatically sends the purse information to an integration process in Workday Studio.  
5. The process in Workday Studio extracts the data about the approved purse and uses it to automatically complete and send a supplier invoice to Workday Financial Management. Automated workflows then help to ensure that the appropriate parties receive their payments as mandated by the terms of the tournament agreement. 
6. Winning golfers and/or their organisations are paid via supplier invoices as they are contracted to provide their services to the tournament organisation.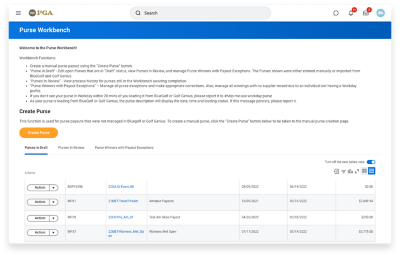 The seamless integration between third-party tournament management software, the purse tool and Workday enables PGA Headquarters and PGA Section Offices around the country to process prize winnings from thousands of events to tens of thousands of prize winners from one spot with minimal effort.

Director, Section Business Operations
Teed up for the next shot.
Because the Purse Management app is part of the PGA of America's Workday system, the app will automatically reflect the new capabilities in Workday releases, reducing future requirements. Developers are also using the tools and resources in Workday Extend to simplify ongoing innovation. They have already added new capabilities to the Purse Management app, such as enabling multiple purses for a single event. And they're exploring other Workday app ideas that can improve user experience. Whitaker concludes, "As Workday evolves and changes, so will our Purse Management app. Our stakeholders are excited about what we'll do next with Workday Extend."
Workday Extend continues to open doors for us because we can learn about what's possible and deliver solutions that leadership can see in our developer tenants before we nail down the details.

Senior Director, Enterprise Technology