Workday Compensation:
it's the complete package.
Define a compensation programme that's just right.
With compensation management software from Workday, you get a single system that pays off big time. Every team across the organisation can take part in compensation review and access the information they need to set the right rewards.
KEY CAPABILITIES
Pay equity dashboards

Compensation analysis tools

Total rewards statements

Compensation review

Sales incentive compensation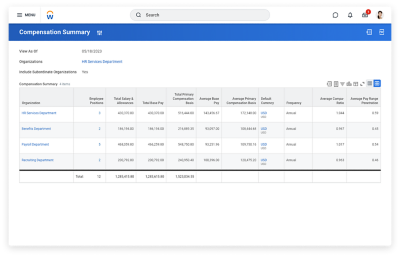 Reward employees, together.
Now administrators and managers can collaborate on the merit process while gaining insights to inform decisions at every step. And we provide all the configurations you need to define merit awards, from bonuses to stock plans and more.

Craft the mix that matters most.
Create a marketable mix that attracts and keeps your best talent. Workday allows you to combine compensation components from regular pay to merit, bonus and stock.
Design programmes that work for your workforce.
Setting compensation isn't a one-size-fits-all endeavour. That's why we give you the flexibility to create compensation programmes that meet the varying needs of your people. Configure many compensation elements, including:
Grades

Packages

Plans

Eligibility rules
Our customers reduced end-to-end compensation planning cycles by 80%.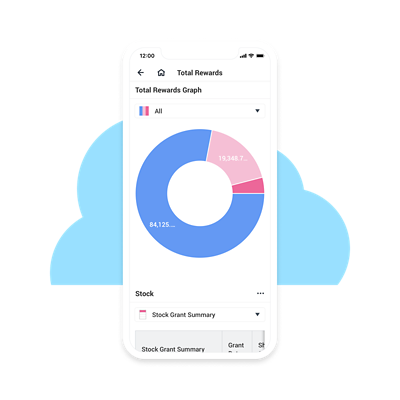 TOTAL REWARDS TRANSPARENCY
Provide total insight into total rewards.
Our total rewards statements let you show your employees the full value of their rewards. And unlike many vendors, this feature is included as part of Workday Compensation.
Deliver greater transparency.
Include both comp and benefits.
View statements on-demand.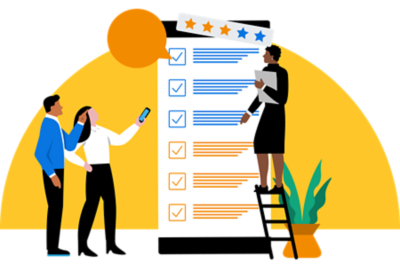 Compensation benchmarking that gets it right.
Stay competitive in today's talent market with more comprehensive compensation benchmarking. By combining multiple data sources – such as pay range and retention risk – Workday makes it easier to see if you're offering rewards that people expect and want.
HR resources just for you.
See how you can get started today.
Ready to talk?
Get in touch.