Agenda
30 May 2023
Marriott Hotel, Melrose Arch
Workday Elevate is your chance to see why Workday is the finance, HR and planning system for a changing world. See what we've got lined up for you by clicking on your role below.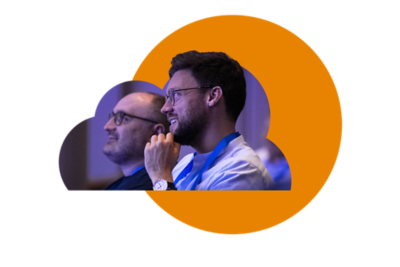 Leanne Manas is our MC for the day. She is a renowned leader on the South African media circuit as the anchor of the South African Broadcasting Services' (SABC) flagship news show, Morning Live. In addition to being an award-winning TV presenter, Leanne is also a radio host, MC and style icon.
13:40 | Workday Keynote: Thriving through times of Economic Uncertainty
Kiv Moodley, Country MD South Africa, Workday
14:15 | Guest keynote address with John Sanei
Globally acclaimed keynote speaker, futures' strategist and bestselling author John Sanei isn't just transforming the way we think about the future, he's empowering us with the courage we need to cultivate everlasting change. Using a dynamic mix of human psychology, quantum science, business strategy and futurism. His topic will be around 'TransforMotion'.
15:00 | Customer panel: Succeeding through times of economic uncertainty
Ebrahim Samodien, CIO, Absa Group Limited (Group Services Office)
Nomsa Lewisa, IT Executive: Employee and Workplace Enablement, Old Mutual
Vinolia Singh, Chief People Officer, Adcorp Group
Join us to uncover some of the most pressing challenges and opportunities for organisations in South Africa during this customer panel session, facilitated by Leanne Manas.
Human Resources

Technology

Finance
16:15 | Leaders of change: Strategy and vision for CHROs
Jannie Malan, Principle Solution Consultant, Workday
With the dramatic change that's taken place in the last few years, CHROs have found themselves in the eye of the storm – and at the centre of converging global crises around skills obsolescence, a post-pandemic reality, equity and inclusion, digital acceleration, a fluid workforce and economic uncertainty. Learn how Workday is addressing the most pressing challenges faced by HR leaders.
16:45 | Executive Roundtable Session
The rise of the bots: a blessing, curse or a bit of both?
Join Jannie Malan, Principle Solution Consultant, Workday, for this discussion on why the popularity of platforms like ChatGPT has made machine learning, artificial intelligence and digital assistants in Human Capital Management an extremely topical subject. Today, these technologies are increasingly finding their way into the Human Capital Management solutions that people use on a daily basis. Opinions on the evolution of these technologies vary greatly – some extremely positive, others predicting that it heralds the potential demise of the human race. But are these technologies truly impacting how South African businesses manage their people and the work experiences they provide?
Likewise, could they assist us in ethically managing the increasing flood of data that we create, consume and seek to interpret, assisting us in understanding our people better so we can create more personalised, engaging and more fulfilling work for employees?
16:15 | Achieving the power to adapt: Technology strategy and vision
Clare Hickie, CTO EMEA, Workday
Join this strategy and vision session to hear how Workday technology investments and innovations from our ecosystem are empowering organisations to adapt at speed and prepare for the future of work. Discover examples of how intelligent automation and accelerated innovation are driving advantages across IT, finance and HR.
16:45 | Executive CIO roundtable session
IDC CIO Technology Focus Report, in partnership with Workday
Most South African organisations are currently implementing their digital transformation initiatives to improve operational efficiencies and realise significant cost savings during these times of economic uncertainty, according to IDC CIO Digital Transformation Survey (Jan 2023). In this session, we'll uncover insights from our Workday Spotlight Thought Leadership Paper with Jonathan Tullett, Associate Research Director, Cloud/IT Services, IDC South Africa & Sub-Saharan Africa, and Clare Hickie, CTO EMEA, Workday.
16:15 | Value Creator: How Workday supports Major Business Re-Organisations
Leslie Marie, Finance Product Lead and Kirenga Rwigema, Customer Strategy & Value Lead for Workday
In times of uncertain business conditions and economic volatility, we invariably see industry consolidation. This is due to tougher conditions for the attainment of organic growth for most industries. The challenge however with consolidation, is that merging, acquiring or divesting from a business carries with it significant complexity that erodes the intended value or the re-org event. Join us to learn how Workday enables Finance to reduce complexity in day to day running of business, and therefore improves likelihood of realising synergies and expedited time to value for major business re-organisations.
16:45 | Deloitte-led executive CFO roundtable session
Deloitte will be sharing some insights from their latest survey on Global Planning, Budgeting and Forecasting
Join Andries van den Berg, Business Finance Leader, Deloitte Consulting, as he takes us through the results of this survey, aimed at better understanding the critical role that planning, budgeting and forecasting plays in helping organisations to manage performance effectively and enable better decision making.
17:20 | Closing Session with Leanne Manas and Kiv Moodley
17:30 | Cocktail & Networking (with entertainment by Ayo Solanke, award-winning saxophonist) at Daytona (exclusive vehicle showroom)
Join us at Workday Elevate Johannesburg