Agenda
23 May 2023
etc.venues | 133 Houndsditch
Workday Elevate is your chance to see why Workday is the finance, HR and planning system for a changing world. See what we've got lined up for you by clicking on your role below.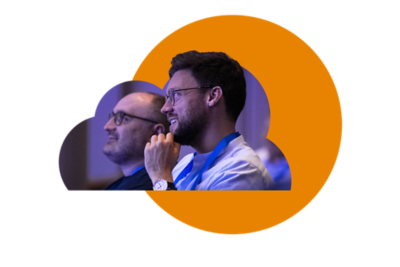 09:15–10:00 | Registration and Refreshments
10:00–10:05 | Workday Regional Welcome | Welcome to Workday Elevate London!
Speaker: UKI GVP, Workday
10:05–10:20 | Workday Keynote
Speaker: Patrick Blair, President, Global Sales Workday
10:20–11:05 | Customer Panel
Speakers: Carolyn Horne, Sr EMEA VP, Senior Customer Engagements at Workday and Stuart Collins, Finance Partner at BDO LLP
11:05–11:35 | Refreshment Break
11:35–11:55 | Leaders of change: Strategy and vision for CHROs
With the dramatic change that's taken place in the last few years, CHROs have found themselves in the eye of the storm – and at the centre of converging global crises around skills obsolescence, a post-pandemic reality, equity and inclusion, digital acceleration, a fluid workforce, and economic uncertainty. Learn how Workday is addressing the most pressing challenges faced by HR leaders.

11:55–12:25 | Manage change and navigate uncertainty through meaningful employee experiences
The world around us is turbulent. More than ever before, employees' expectations have changed – feeling disconnected from work and directly impacting performance and attrition. People leaders lack the skills, experience and drive within their teams to meet the constant challenges of the new work environment. Learn how Workday boosts loyalty through meaningful and personalised employee experiences.

12:25–12:55 | How leveraging a skills intelligence foundation propels the future of work
Today's talent won't meet tomorrow's needs. With a rapid change in skill sets, leaders need to find a way to pinpoint current and future skill gaps to drive an actionable, skills-based people strategy. Learn how Workday, the pioneer in building the first AI/ML-driven skills intelligence foundation, can help you leverage the most powerful skills data to unleash human potential at scale.

11:35–11:55 | Value creator: The next evolution of finance
In this highly volatile and uncertain business environment, organisations need to be more agile and adaptable than ever. This requires finance to be strategic partners to optimise processes, mitigate risk and seize new opportunities. To become value creators, finance needs the right data, technology and talent to be successful. Learn how Workday enables finance to become true value partners.

11:55–12:25 | Drive impactful decision-making with more granular insights
Can your ERP deliver data in the right place at the right time to drive impactful decision-making? Unlike other vendors, Workday delivers a unified source of truth that produces revenue and expense insights at the most granular level – empowering finance teams to become proactive value creators. Learn how Workday can help you build trust in data and enable others to act quickly.

12:25–12:55 | Planning in a time of economic uncertainty
Recession, market volatility and inflation. What's the risk to your plan? To navigate uncertainty, organisations need to create robust plans to minimise risks and take rapid action as events shift. Learn how Workday enables organisations to create agile, continuous plans and take action.

11:35–11:55 | Achieving the power to adapt: Technology strategy and vision
Join this strategy and vision session to hear how Workday technology investments and innovations from our ecosystem are empowering organisations to adapt at speed and prepare for the future of work. Discover examples of how intelligent automation and accelerated innovation are driving advantages across IT, finance and HR.
11:55–12:25 | Optimise for the future of work with artificial intelligence
The future of work has arrived with AI transforming every aspect of the business. HR has shifted to a skills-based economy. Finance has modernised to fully digital transactions. And IT must manage tools for a distributed workforce while keeping up with emerging compliance, laws and regulations. Learn how Workday is embedding AI into the core of our applications to enable you to lead in the future of work.
12:25–12:55 | Unlocking innovation through Workday integrations and extensibility
Organisations often build up a constellation of systems and applications that don't work well together, increasing risk and restricting the ability to adapt to new business challenges. IT leaders need solutions that move them toward integrated and extensible applications and data, augmented by machine learning. Join the conversation to learn more about interoperability and the power of Workday Extend.
12:55–13:20 | Networking Lunch
14:15–14:45 | The enterprise platform for the banking industry
Banking organisations are contending with multiple challenges to meet their people, sustainability and profit goals. Hear how banking leaders are taking a fresh approach to these challenges by leveraging the Workday platform to provide multiple business capabilities to meet their ever-changing current and future strategic needs.
14:15–14:45 | Navigating uncertainty in the insurance industry
In the current climate of uncertainty, discover how Workday enables insurers to anticipate risks and opportunities, adapt to new priorities and change direction quickly. Explore how insurance leaders leverage the business capabilities of Workday to adapt and thrive in uncertain times.
14:15–14:45 | How are public sector organisations realising value in a changing world?
In these times of uncertainty, discover how public sector organisations are leveraging Workday to optimise finance, HR and planning processes, engage public servants and adapt operating models. Hear from customers on how they are using Workday to deliver measurable business value and real cost savings.
14:15–14:45 | Managing uncertainty to adapt and thrive in the professional & business services industry
Learn how Workday helps professional and business services (PBS) organisations navigate uncertainty by anticipating risks and opportunities, adapting to new forecasts, and changing direction quickly. Hear from PBS experts about how organisations use Workday as their intelligent core for people, projects and financials – enabling them to digitise, automate and ultimately grow and thrive.
14:15–14:45 | Navigating uncertainty in the retail, consumer goods and hospitality industries
As uncertainty has become the norm, retail, consumer goods and hospitality companies have to rethink priorities and reinvent themselves to stay competitive and relevant to more demanding customers. Hear customers and industry experts speak about how organisations use Workday to manage their people, business and money – enabling them to adapt and thrive in this new market reality.
14:15–14:45 | Unleashing your tech company's potential in an ever-changing world
In today's uncertain business environment, technology companies face new challenges at every turn. But with the right tools and strategies, you can turn uncertainty into opportunities, remain competitive and drive sustainable growth. Harness the power of Workday to stay ahead of the curve and unleash your company's full potential.
14:45–15:15 | Guest Speaker Keynote
15:15–15:30 | Closing Comments
15:30–19:30 | Drinks Networking Reception
Join us at Workday Elevate London