PRESTATIES EN OPTIMALISATIE
Maak gebruik van de kracht van uw mensen.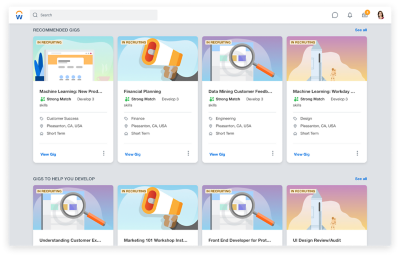 Weet wat u in huis heeft. Vind wat u nodig heeft.
Krijg een compleet overzicht van het talent in uw bedrijf en ontdek hoe u hier het meeste uit haalt. 
Met Workday Talent & Performance Management bepaalt u aan de hand van vaardigheden nauwkeurig of en welk talent u moet inhuren, ontwikkelen of lenen.
BELANGRIJKSTE FUNCTIES
Skills management

Loopbaanontwikkeling

"Het team is enthousiast over de snelheid waarmee we nieuwe innovaties uitrollen, functies invullen en talent intern verplaatsen binnen onze teams."

Betrek uw mensen bij de business.

Workday biedt slimme oplossingen om de doelstellingen van uw medewerkers af te stemmen op de doelstellingen van uw organisatie. Zo kunnen uw organisatie en uw werknemers samen groeien en ontwikkelen.

Ontwikkel uw talent.

Geef uw teamleden meer mogelijkheden met slimme tools voor carrièreontwikkeling, waaronder talentbeoordelingen, functie-interesses, carrièrewijzers en een marktplaats voor talent.

Identificeer vandaag de leiders van morgen.

Maak wervingsplannen, beheer opvolgingspools en kandidaatgegevens en vergelijk talent. Het identificeren van de mensen die zijn uitgerust om uw bedrijf te leiden is nog nooit zo eenvoudig geweest.

Creëer een 'culture of excellence'.

Van het stellen van doelen tot het plannen van check-ins, Workday zorgt voor open communicatielijnen tussen werknemers en managers zodat iedereen optimaal kan presteren.

Krijg inzicht in de skills van uw workforce.

Vaardigheden zijn de nieuwe valuta in de wereld van werk. 

Daarom hebben we de 'Skills Cloud' in Workday gecreëerd. Hiermee krijgt u inzicht in de sterke punten van werknemers, identificeert u ontbrekende vaardigheden en begeleidt u ontwikkelingstrajecten.

Resources over talentmanagement, speciaal voor u.

Hoe we u
snel live krijgen.