FINANCIAL MANAGEMENT CORE REPORTING
Een basis voor diepere financiële inzichten.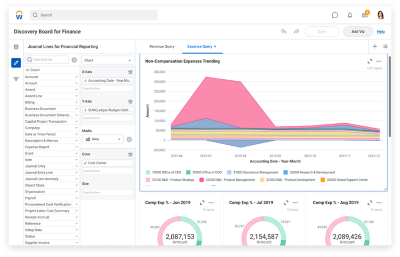 Haal inzichten aan de oppervlakte met de snelheid die de business verlangt.
Kijk verder dan de basics van financiële verslaglegging.
We integreren rapportage en analytics in ons coresysteem voor financieel management zodat u moeiteloos data vanuit elke hoek kunt bekijken om strategisch advies te verstrekken aan de business.
BELANGRIJKSTE FUNCTIES
Realtime analytics

Veilig distribueren naar de hele organisatie

Standaard dashboards en dashboards-op-maat

Drilldown en drill-across

Opgemaakte financiële en wettelijke rapporten

Analytics, transacties en rapportage, allemaal in één.

Voer aanpassingen en updates door, of geef feedback, op het moment dat een analyse wordt uitgevoerd en de inzichten worden gepresenteerd.

Bekijk de data vanuit elke invalshoek.

Analyseer elke bedrijfsdimensie op het gebied van finance, HR en payroll om inzicht te krijgen in de hele business.

Neem afscheid van batchreporting.

Bekijk op elk moment de geconsolideerde financiële resultaten met automatische eliminaties, omrekeningen en winsten.

Lever betekenisvolle rapportages.

Produceer snel financiële verslagen en wettelijk verplichte rapporten en markeer wat belangrijk is.

"Mobiele toegang zorgt dat we altijd en overal inzicht hebben in scorecards en data."

Snel en veilig betrouwbare informatie delen.

Alleen Workday biedt u één beveiligingsmodel zodat u op een vlotte en veilige manier inzichten kunt distribueren. Stel één keer op rollen gebaseerde beveiliging in, maak rapporten en visualisaties en deel ze op veilige wijze.

Aon kreeg beter inzicht in zijn internationale activiteiten.

Breng al uw data samen voor een volledig beeld.

Toegang tot inzichten via web, mobiel of tablet.

Distribueer rapporten per rol en hiërarchie.

Mensen zien alleen wat ze mogen zien.

Resources over analytics en rapportage, speciaal voor u.

Hoe we u
snel live krijgen.