What you need to know.
We can't wait to see you at Workday Altitude®. To ensure you have the best experience possible, please review the following information ahead of time.
This year's venue.
ARIA Resort & Casino
3730 S Las Vegas Blvd.
Las Vegas, NV 89158
Booking your hotel.
We've reserved room blocks at ARIA Resort & Casino, as well as the smoke-free resort and casino Park MGM that's just a short indoor walk away. Use the Attendee Portal to reserve your room by Friday, June 9, 2023. 
For more details, read the Hotel FAQs.
Note: Reservations are first come, first served. If ARIA Resort & Casino is at capacity, we will not be able to accommodate special requests.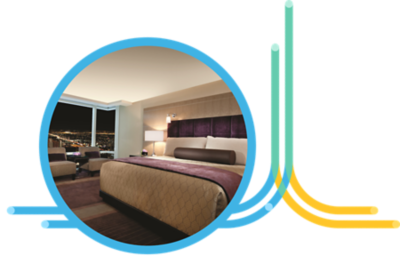 Deposit
The first night's room rate plus tax will be charged to your credit card as a deposit and applied to your first night's stay upon check-in.
Expenses
All travel-related expenses should be billed to your department cost center and approved by your manager. When you submit expenses, please assign the "Workday Altitude 2023" project tag. Do not use the "Internal Meeting" project tag.
Getting to the event.
Please book your own flight to Harry Reid International Airport (LAS) and arrange ground transportation to your hotel via taxi, Uber, or Lyft.
For local attendees, self-parking is available free of charge.
Note: All flights for Workday Altitude, including international flights, should be booked in economy class. As in previous years, due to the number of attendees, the travel policy has been amended to economy class to manage costs.
International attendees.
If you're traveling from outside the U.S. and need a visa, apply for it as soon as possible as there are currently unprecedented delays in visa processing times. Visit this page to access our global business travel visa tool managed by CIBT.
Taking care of ourselves and each other.
The Global Workplace Safety team is closely monitoring the evolving state of COVID-19 in alignment with the CDC and local restrictions to ensure your health and safety.
The following protocols are currently in place:
COVID-19 vaccinations and testing are not required for Workday Altitude. However, each Workmate is responsible for reviewing and following the entry and exit requirements of their home country to the U.S. Here is some helpful information provided by the CDC for all international travelers to and from the U.S.
Only positive cases will require reporting to safety@workday.com.
Attendees who are sick should stay home per our Global Healthy Workplace Policy.
While not required, masks will be provided at the event, along with hand-sanitizing stations and enhanced cleaning throughout the venue. All Workmates must comply with the Workday Global Healthy Workplace Policy.
Note: The health and safety protocols are subject to change.
A few important reminders.
Workday Altitude is an in-person event.
Select sessions will be available on demand after the event. So please try your best to join us in person.
Spend time with your colleagues and our partners.
Take full advantage of this opportunity to spend quality time with your Workmates and partners.
Your part in managing costs.
As you book your flights, don't forget that the travel policy has been amended to economy class to help manage costs. In addition, all meals are provided at the conference. We ask that you do not plan ancillary meals or incur additional food and beverage expenses during Workday Altitude.
Have fun responsibly.
Be respectful toward your colleagues, yourself, and Workday. If you see someone behaving in a way that makes you or others uncomfortable, report your concerns through the Workday Speak Up hotline: speakup.workday.com or contact employee.relations@workday.com.