Your agenda for our Executive Programme
Tuesday 14 November 2023 I 12:00–21:30 CET
We have an entertaining and inspiring day planned for you, with plenty of chances to connect with other business leaders from the Workday customer community. Not only that, you'll hear from a fantastic line-up of thought leaders and take part in moderated discussions to spark new ideas.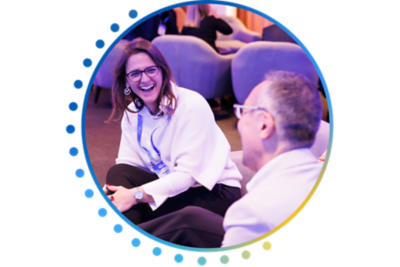 Arrival and Networking Lunch
What better way to kick off your exclusive Executive Programme experience than by getting to know your peers and networking with our Workday executives over lunch?
Welcome to the Executive Programme
We'll begin with a few words from Angelique De Vries-Schipperijn, EMEA President at Workday. She'll be joined by Broadcaster and TV presenter, Natasha Kaplinsky OBE, and you'll be given an outline of what you can expect from the day and hear a bit more about our theme for this year's event: 'How the future works'.
Trust is both the foundation and the result of strong relationships. It's fundamental to meaningful interactions with customers, but there are misconceptions about how trust really works. How do you earn trust in the early stages of a relationship and sustain it over time? What's the difference between loyalty and trust? How does trust work online versus face-to-face? And does transparency lead to more trust? In this session, Rachel Botsman, Global Trust Expert, will help you rethink what trust is and why it's so critical in the digital age.
Prepare to get innovative with our panel – a meeting of top-tier trusted partners. Guided by Rogerio Almeida, Global Alliances Director, EMEA at Workday, this session offers a direct line to industry leaders who will candidly discuss pain points and share best practices on how they're leading in the future of work. Discover cross-industry insights, hear about emerging trends and learn actionable strategies. What's more, you can join in with the live Q&A and tap into the leaders' wealth of experience.
Time to pause, make new connections and continue conversations ahead of your next sessions.
One Community, Leading the Future Together
Enjoy our Executive Roundtable discussions – a mix of industry-specific insights and pressing concerns of business leaders. Guided by seasoned facilitators, these interactive sessions give you the chance to explore challenges, leadership priorities and solutions, and engage in collaborative problem-solving and networking. You'll gain practical lessons and fresh perspectives to elevate your leadership journey and business success.
Workday Rising EMEA: Imagine What's Possible
Be inspired and open your mind to what's possible at our Welcome Keynote at Workday Rising EMEA. Watch Dr. Tomas Chamorro-Premuzic, an international authority on human-AI interface, people analytics, talent management and leadership development, explore why the age of AI is such an exciting time.
Being Human in the Age of AI
Join us for an interactive fireside chat, facilitated by Natasha Kaplinsky OBE, featuring our Workday Rising EMEA Keynote speaker, Dr. Tomas Chamorro-Premuzic. This session gives you the chance to discuss the standout points from Dr. Chamorro-Premuzic's Keynote and get all your questions answered – an opportunity you won't want to miss.
Dining Experience at Aurt, Hilton
Wrap up your day with an exceptional Michelin star dining experience at Aurt, in the Hilton, accompanied by our distinguished lineup of speakers from the day.