Workday Live Agenda
14. Juni 2023
Jochen Schweizer Arena, München
Erfahren Sie auf der Workday Live, wie Sie noch mehr aus unseren Lösungen herausholen, und tauschen Sie sich mit anderen Kunden und unseren Experten aus.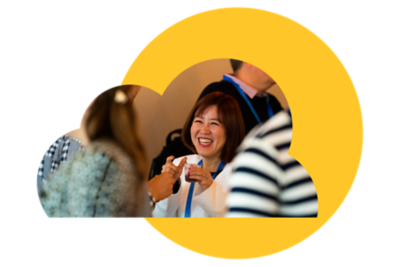 10:00–12:30 | Office of CFO DACH Regional User Group (invite only)
12:30–13:00 | Registration & Refreshments
13:00–13:25 | Workday Regional Welcome
Christopher Knörr, Managing Director & Group Vice President - DACH, Workday
Markus Blonski, Head of Customer Base Germany, Workday
13:25–13:30 | Short Break
13:30–14:10 | Skills: A key to success for your organisation and your employees
Luke Boshoff, Head of Presales, Customer Base DACH, Workday
Vedrana Bogdan, Presales Manager, EMEA, Workday
Understanding employees´ skills is essential for running a business and enabling meaningful employee experiences. In this session we will share how our skills technology helps you turn this from vision into reality. Learn how you can connect your talents with key development opportunities, help them nurture career growth, while you´re being empowered to make data-driven decisions around talent, staffing and plan for future workforce needs.
13:30–14:10 | Workday Strategic Sourcing at Philip Morris International
Meet Wojciech Zalóg from Philip Morris International and get an understanding of how Workday Strategic Sourcing can support your organization to meet the challenges of the future. Hear first hand how the decision derived and how Workday Strategic Sourcing becomes accepted and engages your employees. Jörg Fröstl, Principal Solution Consultant, Workday
Jörg Fröstl, Principal Solution Consultant, Workday 
Wojciech Zalóg, Sr. Manager Procurement, Philip Morris International
13:30–14:50 | Hands-On Lab: Introduction to Workday Reporting and Analytics with Discovery Boards
This hands-on workshop gives you the chance to try the tools Workday offers to build insightful, actionable reports, and offers tips on when to use which tool. Reporting experts take you step by step through real-world HCM and Financials report examples and send you away with a quick-start guide to help you with any reporting task. You will complete hands-on activities using Report Writer, Embedded Reports on Inbox Items, Worksheets, Dashboards, and Discovery Boards.
14:05–14:15 | Short Break
14:15–14:50 | How you can deliver the employee experience your people deserve?
This session will showcase innovations in Workday solutions Peakon Employee Voice, Journeys, Analytics, and Help.
Selin Werner, Senior Solution Consultant, Workday
14:15–14:50 | Best Practice DATEV: Nutzen Sie den Datenschatz in Ihrem Unternehmen? Reporting, Discovery Boards und Datensicherheit (DE)
Stellen Sie sich Fragen wie: "Welcher Kollege hat die erforderlichen Skills" oder "Wie hoch ist mein Attrition-Risiko" oder "Welche Auswirkungen hat Learning auf meine Bottom-line" und das trotz eines riesigen Datenschatzes in Ihrem Unternehmen? Am Beispiel der Datev zeigen wir Ihnen, wie Sie mit Workday Reporting & Analytics Ihre Daten erfolgreich für sich nutzen können.
Michael Goller, Technical Architect, Datev
Sascha Stöhr, Account Executive, Workday
14:50–15:15 | Coffee Break
15:15–15:50 | How Delivery Hero is using Workday Peakon Employee Voice to increase employee engagement
Yvonne Dörn, Enterprise Customer Success Manager
Miguel Brion, Sr. Employee Engagement Specialist, People and Culture, Delivery Hero
Learn about Delivery Hero's journey in Employee Engagement. Find out how WPEV enables Delivery Hero to gain valuable insights into their workforce and which best practices they can share with other organizations looking to improve their employee engagement.
15:15–15:50 | Planning for the future with Workday Adaptive Planning at HelloFresh
Marcus Scheibe, Sr. Solution Consultant
Daniel Couri, Director Financial Planning and Analysis, HelloFresh
15:15–16:35 | Hands-On Lab: A Deep Dive into Calculated Fields
This Hands-On Lab session will cover a series of activities, immersing you in a journey and solving complex business requirements using calculated fields. We will work through examples of how calcualted fields can be used to solve various day to day problems in Workday for reporting, business processes and other activities, as well as giving tips and tricks to find the right solution.
15:50–16:00 | Short Break
16:00–16:35 | Workday Success Plans – achieving business results faster
Sarah Schaller, Senior Customer Success Manager, Workday
Find out how Workday Success Plans (WSP) helps you to embrace the change, drive adoption & upskill your team to achieve business results faster.
16:00–16:35 | Expanding the platform with Workday Extend
Oliver Zandner, Principal Enterprise Architect, Workday
Workday Extend is a way for Workday customers to go beyond Workday's existing standard applications by creating custom applications. As an example, customers can enhance Workday's Expense application by creating a custom application that lets their employees create a request for a corporate credit card that following internal approval is routed to their organization's credit card provider for processing.
16:00–16:35 | "Change the way you change": How LeanIX uses Workday Finance to continuously transform
In this roundtable discussion, LeanIX shares first-hand insights into their transformation journey using Workday Financials. Learn about how LeanIX started their continuous business transformation and get a glimpse into the journey and results thus far. In the interactive Q&A section, discuss with Finance experts what is relevant for your own journey.
Tim Teuscher, Regional Finance Lead, Workday
Sven Zeidler, Finance Operations Manager, LeanIX
16:35–16:45 | Short Break
16:45–17:20 | How Logicalis utilizes Workday's value philosophy to maximize benefits
Learn which benefits Logicalis, a leading global technology service provider, achieves with Workday and how a continuous value creation is ensured. Additionally, we will discuss best practices of how to measure progress and how to utilize Workday resources to support.
Johannes Raiser, Value Manager, Workday
Alen Bosnjak, HRIS Manager, Logicalis
16:45–17:20 | Global Payroll - Alight Partnership
In a rapidly changing world, organizations can no longer rely on disconnected and siloed HR and payroll systems that slow progress. We will discuss how Workday and Alight offer a powerful, end-to-end HR and payroll solution that empowers organizations to source, manage and pay their global workforce with a simplified, unified offering.
Dirk Burkamp, Regional Sales Director / Workday Practice Lead DACH, Alight
Luke Boshoff, Head of Presales, Customer Base DACH, Workday

17:20–17:30 | Closing Session
18:00–19:00 | Networking und Body Flying
18:00–19:30 | Transfer to Party Location
Erleben Sie die Workday Live at Workday Elevate Munich